Students' digital skills help to map local wildlife over the generations
Talented Teesside computing students have created an innovative tool to help Tees Valley Wildlife Trust map and preserve childhood memories of local wildlife.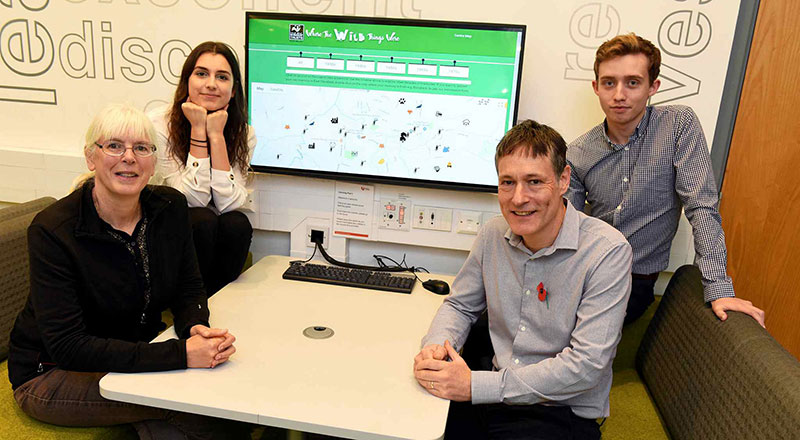 Matthew Charlton and Francesca Zealley, both now in the final year of studying BSc (Hons) Computing at Teesside University, took on the project as part of a second-year module on their course.
Tees Valley Wildlife Trust, funded by the Heritage Lottery Fund, sought to produce a digital history of the distribution of wildlife across East Cleveland, working from the memories of local people while they were growing up. However, the Trust was unsure how to achieve this and lacked the technical knowledge and resource in-house.
That was when Kate Bartram, East Cleveland Officer at the Trust, approached the School of Computing, Media & the Arts at Teesside University to see if they could help with the project.
Kate said: 'We had knowledge of what we wanted, but we really needed the expertise from the University. The link with the University was so important in getting us the product we needed.'
Providing an experience of what it is like to work with real life clients, Kate and her colleague Steve Ashton, People and Wildlife Manager, came along to the University and delivered a brief to a class of second-year students.
The students then came up with their own proposals for the project and had to pitch their ideas to the client, addressing how to link memories to the local landscape in a visual way.
Ultimately, the Tees Valley Wildlife Trust chose Matthew and Francesca's proposal of an interactive map and decided to develop the project with their help.
'Matthew and Francesca delivered a fantastic pitch – it was sleek, professional and confident,' Kate explained.
'They really understood the brief and were very focused on delivering what we had asked for. Matthew and Francesca gave a demonstration which was really useful and provided methodologies on how we could load the project in-house.'
Matthew said: 'When we got the brief we had an idea to produce a timeline but we weren't sure how that would look initially. We were aware the project would reach a broad target audience so it needed to appeal to everyone. It was great for us to gain experience working with real clients during our course.'
It has been an enormously positive experience and we hope that we can work with the University again in future.
Francesca added: 'Our main goal was for the product to be really interactive to engage people. It was very useful to learn how to take the client's requirements and turn it into a finished product. The experience was invaluable and helped prepare me for my placement year working in industry.'
The finished product provides a digital map of the East Cleveland area on the Tees Valley Wildlife Trust website. Users are able to explore the region, discover where species were recorded and read about other people's memories of the local wildlife.
Jeremy Garside, Chief Executive Officer of the Tees Valley Wildlife Trust, said: 'This was quite an unusual project for us, so we really benefitted from the expertise at Teesside University.
'We wanted to capture stories and memories from people's childhood to map different species across East Cleveland. Volunteers spoke to people and recorded their memories from times when children used to wander far and wide. Children get very hands-on in natural environments in a way that adults don't, so it's been very interesting and useful for us to capture experiences from when people were younger.'
Kate added: 'We really enjoyed working with Teesside University and engaging with the students. It has been an enormously positive experience and we hope that we can work with the University again in future.'
Dr Myriam Mallet, Senior Lecturer in Digital Media and the Web, said: 'Matthew and Francesca were extremely professional from beginning to end. They worked very well with the client and really took feedback into consideration.
'The valuable time that the Wildlife Trust willingly spent with the students has been paramount in both the project success and students' learning and I would like to personally thank the Trust for this. It is fantastic when students get to work on live projects as part of their course – it prepares them well for what is to come in their future careers.'
---