New MIMA School of Art
Middlesbrough Institute of Modern Art (MIMA) is to lead Teesside University's Fine Art provision.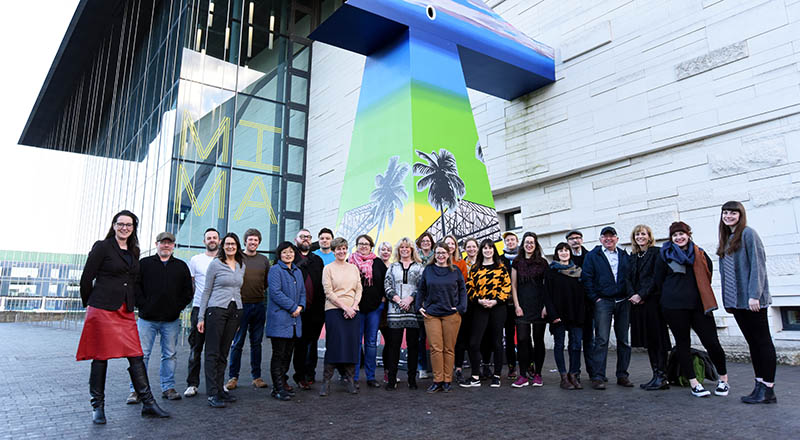 In this move MIMA, a renowned international museum with a civic mission and community engagement at its heart, will support new generations of artists to successfully begin their creative working lives.
Drawing on MIMA's global professional networks of artists and institutional partners, Teesside University's Fine Arts courses locate under the guidance of MIMA from Easter 2019 to prepare for a new cohort of students in September 2019.
With MIMA as a creative hub, students will gain the opportunity to connect with world-leading artists preparing new exhibitions and established curators working on commissions, projects and collections. MIMA has an innovative approach to community engagement and students will gain an insight into the wider civic role of the gallery.
The creation of the new school within MIMA will allow the University to grow its arts courses, which were previously located in the School of Computing, Media & the Arts, and establish itself as one of the country's leading art schools. The MIMA School of Art model is nationally unique and provides a rich research environment for support staff and students alike.
MIMA School of Art will build upon Teesside University's successful Fine Art courses which include BA, MA and PhD specialisms in photography, performance, experimental digital work and studio practice taught by practising international artists.
Teesside University took over the running of MIMA from Middlesbrough Council in 2014 and has helped to grow the reputation of the museum as a forward-thinking institution which has a civic agenda to connect art, people and ideas. This new development marks a significant step for the gallery within the University.
MIMA has changing seasonal exhibitions, collection displays, learning activities and community-focused initiatives involving many artists and people both locally, nationally and internationally. It also houses the Middlesbrough Collection, a permanent display which highlights the influence and use of art and craft in the town.
VisitEngland recently nominated MIMA as one of the UK's best places to visit, one of only three North East venues to achieve the accolade. A member of the national Tate Plus network and the international network of museums L'Internationale, MIMA contributes to a global conversation about art, museums and community building. This professional context will enable students to have early engagement with the wider landscape of the field.
As the Tees Valley prepares to bid to become UK Capital of Culture in 2025, we are very excited about the potential the MIMA School of Art has to grow and strengthen our arts offering.
MIMA Director Laura Sillars said: 'Artists have an important role to play in our complex, global environment and the establishment of a MIMA School of Art enables us to nurture, develop and support significant new talent for the future. It is a meaningful move marking considerable support from Teesside University which will allow a truly exceptional experience for our students.'
Professor Paul Croney, Vice-Chancellor and Chief Executive of Teesside University, said: 'The creation of the MIMA School of Art will enable us to get the maximum benefit from the natural synergy between our fine art courses and the work being carried out by MIMA.
'The exposure that our students will get from being part of an award-winning working museum with a strong international reputation will enhance their experience and improve their employability.
'At the same time it will allow fine art staff to benefit from the excellent community links that MIMA has developed.'
Professor Mark Simpson, Pro Vice-Chancellor (Learning and Teaching), added: 'As the Tees Valley prepares to bid to become UK Capital of Culture in 2025, we are very excited about the potential the MIMA School of Art has to grow and strengthen our arts offering.'
Councillor Mick Thompson, Executive member for Culture and Communities at Middlesbrough Council which is one of MIMA's key stakeholders and founding partners, said: 'MIMA is a huge asset to Middlesbrough with a national and international reputation for excellence.
'The creation of a new School of Art in partnership with Teesside University will further enhance its standing in the art world, and help to nurture a whole new generation of artists.'
---
Course details
---
Course details
---