Teaching excellence recognised through digitally empowering staff
Teesside University staff continue to achieve external recognition of teaching excellence through the use of digital technology to further enhance student learning, as part of the University's commitment to Future Facing Learning.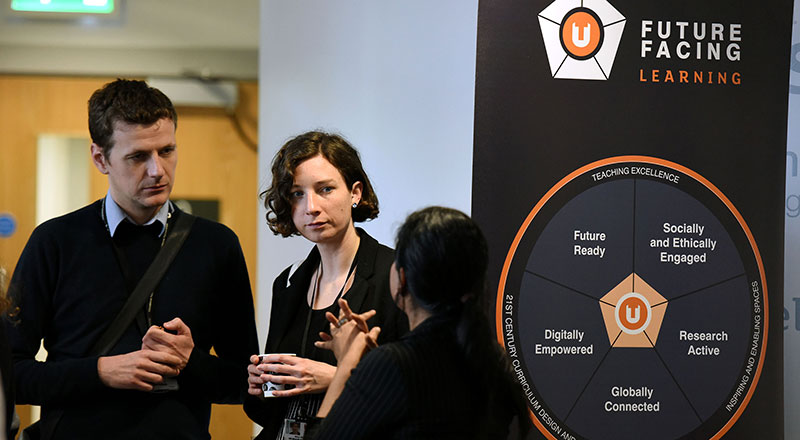 27 University staff achieved Microsoft Certified Educator (MCE) status, recognising the acquisition of the global educator technology literacy competencies needed to provide a rich, custom learning experience for students, during the Future Facing Learning Conference held earlier this month.
The University's Future Facing Learning Conference for staff and students, held on 7 March, was designed to promote teaching excellence, encourage the adoption of innovative pedagogies and share best practice across the University and partner colleges.
The conference explored emerging pedagogic practices, informed by research, scholarship and industry engagement. Workshops were also held for participants to explore how Future Facing Learning can be applied within their own disciplinary context.
Chris Rothwell, Director of Education at Microsoft UK, outlined Microsoft's vision for utilising emerging technologies to transform higher education. Alex Beard, author of Natural Born Learners: Our Incredible Capacity to Learn and How We Can Harness It, explored the future of education through a global lens, looking at how Artificial Intelligence, big data and other technological advances will transform higher education.
The University has been undergoing a learning and teaching transformation with one of the biggest and most ambitious digital roll-outs the higher education sector has ever seen.
This builds upon our successful Future Facing Learning Digital Development Programme, and further evidences the advanced digital capabilities of our staff in providing future facing learning experiences using technology to drive innovative pedagogic practice
The Digital Development Programme, supported by Microsoft, seeks to upskill and support Teesside's academic staff so they can embrace digital technology to further enhance their teaching. Over 460 academic staff have already taken part in the Digital Development Programme, with remaining academic staff having started their training earlier this year. The partnership with Microsoft enables staff to access a wealth of development opportunities available through Microsoft's Education Community.
Professor Mark Simpson, Pro Vice-Chancellor (Learning and Teaching), said: 'The achievement of Microsoft Certified Educator status by 27 staff provides further recognition of teaching excellence at Teesside University, in alignment with our commitment to Future Facing Learning.
'This builds upon our successful Future Facing Learning Digital Development Programme, and further evidences the advanced digital capabilities of our staff in providing future facing learning experiences using technology to drive innovative pedagogic practice.'
---