University research bringing history to life
Visitors to a major North-East archaeological site are being given the opportunity to see how researchers at Teesside University are using state-of-the-art technology to better understand historic artefacts.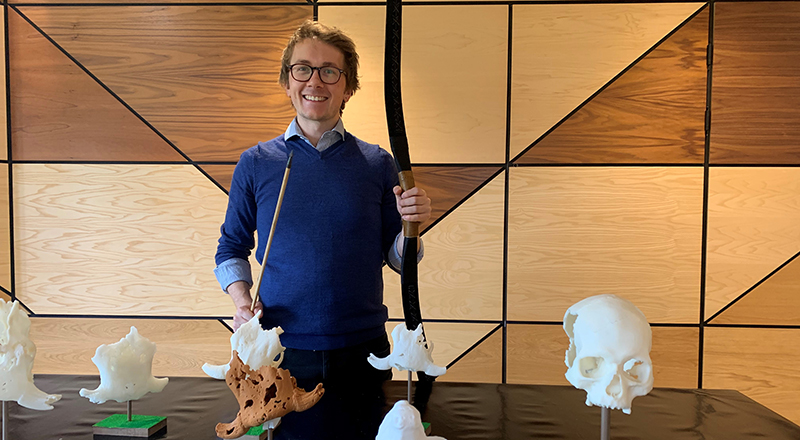 Academics from the University are on hand at Vindolanda in Northumberland this Bank Holiday weekend to showcase ground-breaking research using 3D scanning and printing to provide highly detailed models of objects retrieved at the former Roman fort.
Rhys Williams, a PhD researcher in the School of Science, Engineering & Design, supervised by Dr Gillian Taylor, has been investigating ways of visualising Vindolanda and its complex burial conditions for the public.
As part of his studies, he has made 3D scans of ox heads which were retrieved at Vindolanda and were used as target practice by soldiers based at the fort.
The resulting 3D images allow researchers to take a closer look at the evidence without damaging the artefacts. As well as providing a digital model, the scans can be 3D printed to provide an exact replica of the skulls.
This weekend, Rhys and his colleagues will be holding 'Scanning History' workshops at Vindolanda where visitors can learn more about how digital technology is providing new insights into the artefacts.
As well as getting the chance to view and explore the digital images, the visitors can handle the 3D printed models themselves.
They will also get their chance to experience life as a Roman soldier and try their hand at archery using ox skulls for target practice.
Rhys Williams said: 'Producing the 3D scans and models of the ox heads provides us with a permanent record of the artefacts and allows us to investigate them without risking any damage to the artefacts.
'It's a very immersive experience and we wanted to give people the chance to view for themselves how our research is giving us a better understanding of life at the fort.'
It is expected that more than 600 people will be visiting Vindolanda every day this weekend to view the site and take part in the workshops.
Dr Andrew Birley, Chief Executive and Director of Excavations for the Vindolanda Trust, said: 'We are delighted to have Rhys and his colleagues from Teesside University at Vindolanda to show our visitors how science and technology is used to help us understand and interpret parts of our collection. Normally this ongoing research takes place behind-the-scenes so to bring it right in front of the public at Vindolanda for the first time is something we are very excited to see happen.'
---