Research expertise leads to international role
Teesside University's research expertise has been recognised with a prestigious new international role for Professor Dorothy Newbury-Birch.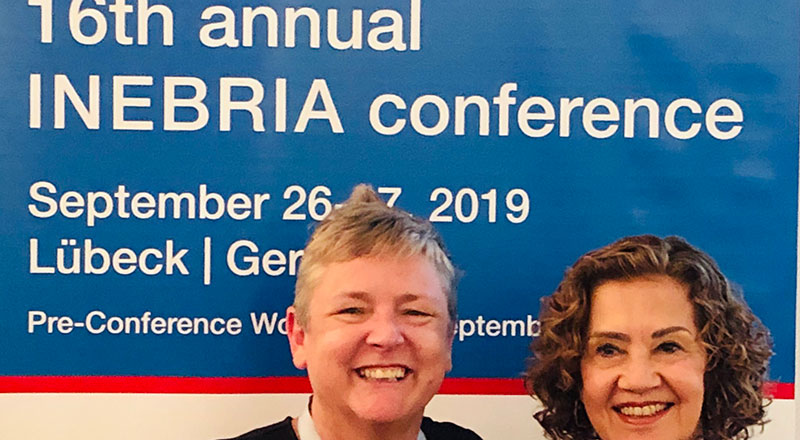 The Professor of Alcohol and Public Health Research has been elected as co-president elect of INEBRIA (International Network on Brief Interventions for Alcohol and Other Drugs).
Professor Newbury-Birch will take on the role of co-president alongside Brazilian academic Maria Lucia Souza-Formigoni, co-ordinator of the Drug Dependence Unit, Department of Psychobiology, Universidade Federal de São Paulo.
They are the first women to take on a presidential role with INEBRIA, an international network of researchers, policy makers, practitioners and other stakeholders interested in the potential of brief interventions in health and other settings to reduce the harms produced by alcohol and other drug use.
Professor Newbury-Birch said: 'We are delighted as we are the first female presidents. Professor Formigoni is in Brazil, so it is a real international effort. We will shadow the existing president for the next year and then take over as presidents in September 2020 at INEBRIA's India conference.'
INEBRIA's annual conference provides an opportunity for internationally important research to be presented from across the world.
Professor Newbury-Birch added: 'We aim to provide global leadership in the development, evaluation and implementation of evidence-based practice in the area of early identification and brief intervention for hazardous and harmful substance use.'
Professor Formigoni added: 'We intend to contribute to sharing studies and experiences on the implementation of substance screening followed by brief intervention developed by INEBRIA members from several countries.'
Professor Newbury-Birch leads the University's Alcohol, Obesity and Public Health Team and her research focuses on work around reducing alcohol related harm in society, particularly for young people and those in various stages of the criminal justice system.
She recently worked alongside the National Institute for Health and Care Excellence (NICE) to help update its guidelines on alcohol interventions in secondary and further education.
Professor Newbury-Birch also works in partnership with individuals and practitioners to get evidence into practice. She has been involved in over 70 peer reviewed publications and reports as well as many other abstracts and letters and been awarded over £14 million in research grants.
---