Special recognition for charity fundraiser
Billingham mum and cancer survivor Lisa Tomlinson, who is studying at Teesside University to become a nursing associate, has been recognised for her charity fundraising and campaigning.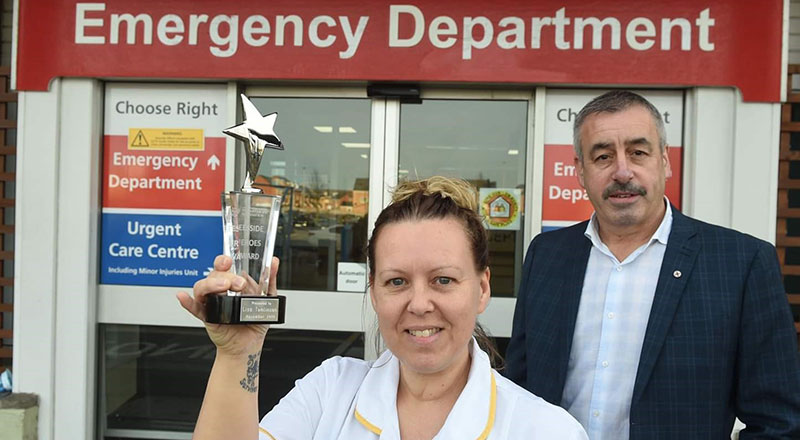 Lisa, who is currently employed by North Tees & Hartlepool NHS Foundation Trust, where she has her placements while completing the second year of her FdSc Nursing Associate at Teesside University, has received a Teesside Hero Award from Teesside Philanthropic Foundation.
Lisa, who was diagnosed with cervical cancer in 2006 aged 31, has raised thousands of pounds for Teesside charities. She has also spent the past decade lobbying parliament calls for a reduction to the age for women can access cervical screening programmes, with her latest petition receiving more than 100,000 signatures.
Her fiancé Colin Cowie, who nominated her for the award, felt she deserved recognition for her campaigning and fundraising, all while going through gruelling treatment to beat cancer twice.
Her cancer returned in 2015 in her appendix. The tumour was removed and she was back at work two weeks later. A scare two years ago saw part of her liver removed, but thankfully tests proved a growth was benign.
Colin said: 'She always said she would pay the people back who helped her and she continues to fundraise every week for all kinds of charities.'
Lisa was presented with her award by Dave Nicholson of Philanthropic Foundation patrons, the Nicholson Group, in front of the Accident and Emergency Department at North Tees Hospital, where she is currently working on placement.
There are so many people who do so many amazing things out there on Teesside, I'm just a little person getting on with my life
'I don't feel as if I am worthy of the title,' said Lisa. 'There are so many people who do so many amazing things out there on Teesside, I'm just a little person getting on with my life.'
Colin added: I have never known somebody as energetic and as positive as Lisa and when her friends described her as an inspiration, I couldn't agree more. Lisa has adopted my daughter Freya, who has Down's Syndrome, as her own and it's so lovely to see Freya grow and turn into the young lady Lisa has helped her to become. Freya has a mummy in her life and Lisa has the daughter she's always dreamed of.'
He added: 'Lisa's motto, Live for today', rings in my head and everyone else's when we see how far she has come these last 10 years. Lisa still fundraises every week and often raises funds towards patient care in her hospital.'
The Teesside Hero Award comes with a £1,000 grant which Teesside Philanthropic Foundation will send to a charity of Lisa's choice. She has opted to give it to the Teesside Family Foundation which supports people across the area with all kinds of valuable initiatives.
---