Teesside University assists rapid response to call for PPE production
A team from Teesside University has been involved in the use of digital manufacturing techniques to support the rapid prototyping of COVID-19 PPE production in the UK and abroad.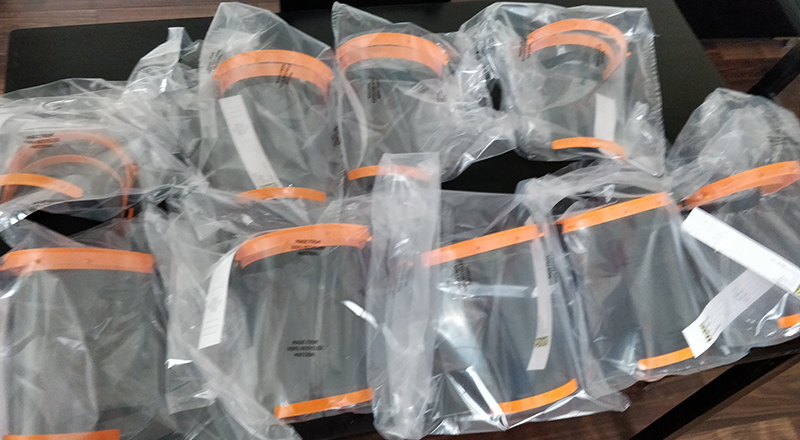 Business innovation managers Gary Thompson and Omar Al-Janabi, along with Dr Michael Short from the University's School of Computing, Engineering and Digital Technologies, have been liaising with local companies and national groups related to PPE production and distribution.
They have been creating, adapting and collaborating on designs for COVID-19 face mask filters and visors and helping to organise production and delivery.
Dr Short, a Reader in Engineering and academic lead for the newly formed Centre for Sustainable Engineering at the University, co-ordinated with Gary Thompson and Gateshead digital Engineering company Jagdesign (4M) Ltd for the first batch of masks and filters.
Subsequent batches of visors have also been manufactured using state-of-the-art 3D-printing facilities by GoPrint3D Ltd. in Ripon, with further batches now produced at both facilities.
With additional technical support from Kevin Mallam and Guy Morgan, School of Computing, Engineering & Digital Technologies technicians, the University has also used its own state-of-the-art facilities to manufacture visors.
Equipment has already been donated to keyworkers in healthcare, retail and the police.
Dr Short said: 'We were keen to provide a rapid response to support healthcare and other key workers. The equipment is not intended to replace official equipment, but principally to provide some short term protection as this equipment is being procured and distributed through traditional channels - which can take up vital time.
This has been a real community-led effort which we have been proud to be part of, and if it helps even just a little it will have been worth it
'We have followed guidance on design and materials and are providing the equipment free of charge and as-is, along with advice on fitting and cleaning. We are pleased to share the Universities' expertise and join forces with local businesses and other volunteers in the region. This has been a real community-led effort which we have been proud to be part of, and if it helps even just a little it will have been worth it.'
Dr Short has also worked with colleagues at the Vellore Institute of Technology in Chennai to pass designs and help configure equipment - prototypes have now been printed and will be supplied to local healthcare workers in Tamil Nadu. JagDesign(4M) have now applied for Innovate UK funding to further develop the anti-viral mask designed by Gary Thompson.
Any businesses interested in becoming involved in PPE or related medical equipment production in the Tees Valley region can apply for a grant of up to £15k to support their activities. Contact the University's business hotline on 01642 384068.
---