Recognition for computer games art students
Two computer games students have been recognised in an international competition which aims to help graduates make the leap to professional games developer.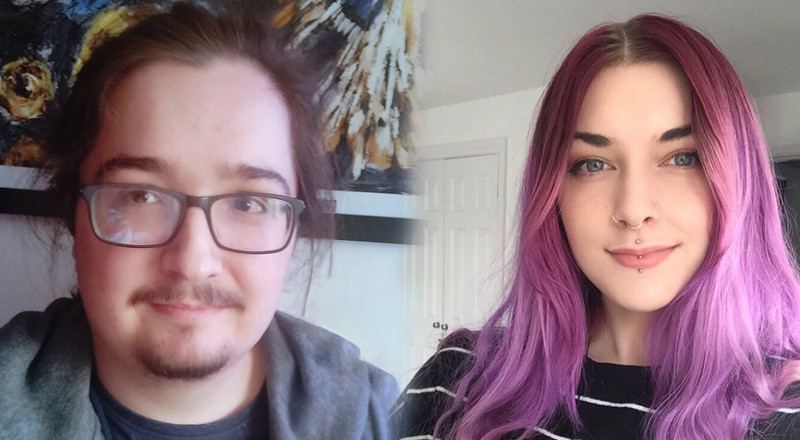 Radomir Fifik and Emily Harrison, both BA (Hons) Computer Games Art students in the School of Computing, Engineering & Digital Technology, won their categories in the Grads in Games annual Search for a Star international competition for young games developers.
Radomir, 23, who is originally from the Czech Republic, was named as winner of the Character Art Rising Star category, while Emily, 20, from Newton Aycliffe, was named first place in the Character Art Search for a Star category.
Radomir, who has just completed the second year of his degree, chose Teesside to enable him to pursue his dream of working in games development. He said: 'In my country it is an impossible dream as there are maybe two or three places where you can study something related to games, however none of these places have proper facilities or modules focused on games. 'At Teesside, the main draw for me was that almost all modules were practical, and you were primarily modelling and texturing.'
To win his Grads in Games recognition, Radomir create an original, game-ready character, with finalists then selected to present their work to a panel of industry professionals.
He said: 'It feels amazing that all the hard work, dedication and time investment I've put in has been acknowledged. It also served as proof to my parents that their support, that enables me to fully dedicate to my studies here, was absolutely worth it.
He added: 'I want to work as a character artist and taking up this challenge has helped me push myself and learn a lot of new things. I got some great feedback both from my University tutors and the judges which help me make my work even better. I also got a better idea of what I should add to my portfolio to make it even more desirable to employers.'
Emily, who this year completed her degree studies at Teesside University, said: 'I've had an interest in video games from a young age and pursued art as a hobby up until I learnt about what actually went into making games.
'It wasn't until I started at Teesside University that I discovered a love for character art and digital sculpting; being able to combine my 2D digital art skills with 3D modelling to create characters for games.'
Emily added: 'It feels as if all of my hard work has been recognised and it helps to lower self-doubt about potential in the industry.
'I'm most proud in ranking first in the creative category for character art as that's something I always strive to have shine in my projects; loving to create the concepts for characters from scratch and have a strong narrative to go alongside them. It's the part of art that I love the most and something that I hope I don't take for granted in future projects.'
Emily added: 'I'm currently searching and hoping for a Junior Character Art position in the gaming industry, in an Indie or larger company.
'I would love the experience of working with a larger company to see what it's like in hopes that can propel me in the right direction further along the line, but also love working with a small group to create something we're all as passionate about as I've experienced throughout my studies at Teesside University.'
---