Royal appointment for Teesside University student and volunteer
An international student from Teesside University received a personal thank you from The Queen for his volunteering efforts during the COVID-19 pandemic.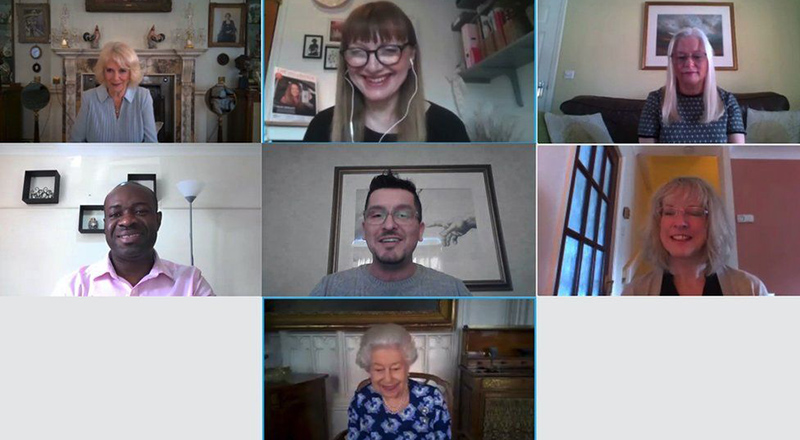 PhD student Anderson Akponeware was invited to take part in a special video call with The Queen and The Duchess of Cornwall to thank members of the Royal Voluntary Service and mark one year since the launch of the NHS Volunteer Responders Scheme.
Anderson volunteers as a Check in and Chat NHS Volunteer Responder and when he is not studying, spends his weekends and evenings phoning those in need of conversation.
Originally from Nigeria and now living in Middlesbrough, 41-year-old Anderson, said: "When I signed up to become a volunteer I never expected to speak to the Royal Family. This is something I will remember and treasure for ever."
The Royal Voluntary Service's Patron, Her Majesty The Queen and the charity's President, Her Royal Highness The Duchess of Cornwall, joined a video call to thank four volunteers for their invaluable support throughout the pandemic.
Speaking during the call, The Queen told the volunteers: "I think it's wonderful work. Thank you to everybody - and all the others too who have been volunteering. It has been a great help."
Camilla, The Duchess of Cornwall, told the volunteers: "Thank you all very much for all you've done throughout the year, throughout the pandemic. We couldn't have done without you."
Anderson is among nearly one million volunteers, who have been recruited to the scheme since its launch and help with tasks such as picking up prescriptions, food shopping for those shielding and unable to leave their homes, as well as taking part in check-up calls.
He said "I didn't think twice about signing up when the appeal was made by the NHS and RVS to support the vulnerable and those who were shielding, so for close to a year now I've been a Check in and Chat volunteer.
"These persons may have no other contact with family or friends, so I help to ensure that those I support are doing okay. I try to provide reassurance and make sure they can get any help that they many need through an NHS community volunteer and where necessary, I ensure that they can be signposted to an expert support."
He added: "People have been living in their own small bubbles and I wouldn't have known how isolated those small bubbles could be until I took on this role. Volunteering is the most important gift and it is something I will continue to do for the rest of my life."
When I signed up to become a volunteer I never expected to speak to the Royal Family
Anderson initially got involved in volunteering last year, at the start of the pandemic, when he responded to local appeals to help deliver PPE and information leaflets.
He said: "I saw first-hand how incredibly grateful those in my local community felt and I was eager to take part in volunteering roles which I could juggle with my PhD. So when an appeal was then made by the NHS and Royal Voluntary Service, I signed up to volunteer to support people in my local community."
He added: "The pandemic has taught me that as a student, I could still help make a difference to lives through volunteering. I have learned that It does not cost much to improve the well-being of others. All it takes is a focused time commitment in small affordable measures."
Anderson also told of his surprise at being asked to join the Royal video call, adding: "I was informed that someone from the Royal Family would like to say 'thank you' to me for my amazing volunteering. I did not know who I was going to be talking to until closer the date."
The call was hosted by RVS chief executive Catherine Johnstone CBE and included Anderson and three other volunteers from the across the North-East, Sue Cadwallader, from Northumberland; Tracy Clarke, from Gateshead; and Simon Holmes, from Stockton.
RVS chief executive Catherine Johnstone CBE, who hosted the call, told the Queen and duchess of her pride at how the UK had stepped forward to volunteer during the coronavirus pandemic.
She said: "It is a real honour for our volunteers to speak to and be thanked by Her Majesty The Queen and Her Royal Highness The Duchess of Cornwall. We are incredibly grateful to them both for taking the time to have this call.
"It was an incredibly special event. Volunteers across the country have done a phenomenal job in keeping our most vulnerable safe, so I would like to take this opportunity to thank each and everyone who has stepped forward."
More information on RVS volunteering opportunities
---