Prestigious recognition for engineering academic
A Teesside University academic has been named among the winners of a Top 50 Women in Engineering: Engineering Heroes award by the Women's Engineering Society (WES).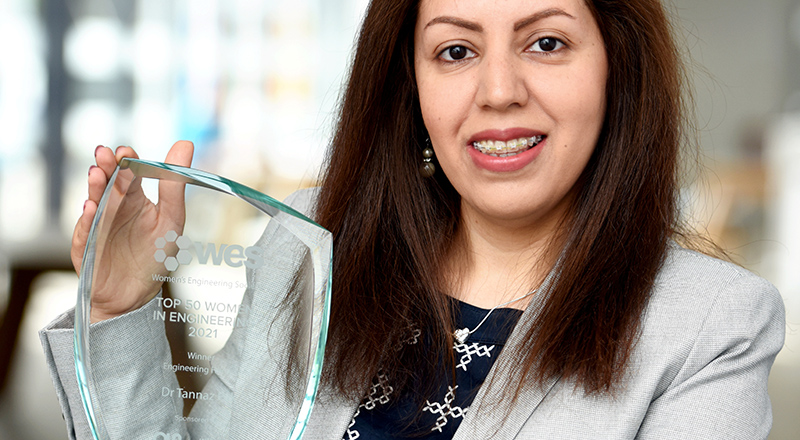 Dr Tannaz Pak, Senior Lecturer in Energy and Environmental Engineering in the University's School of Computing, Engineering & Digital Technologies, has been honoured as part of an annual celebration.
Now in its sixth year, the 2021 WE50 awards celebrate women who have made a significant contribution to engineering in helping their organisation, community, or indeed the world, continue to function during the last year.
Dr Pak is a chartered engineer and professional member of the Institute of Materials, Minerals and Mining (IOM3) and is active in STEM education and outreach.
Over the past decade, her research has provided new insight and novel knowledge within the energy and environmental engineering disciplines. Her recent work involved leading a global research project which is aiming to find new ways to clean contaminated groundwater internationally, contributing to sustainable development goals set out by the United Nations.
Dr Pak leads international engineering research projects funded by the Global Challenges Research Fund (GCRF-UKRI), British Council and British Academy and recently led a research project funded by the Royal Academy of Engineering. Dr Pak has worked with research colleagues from Brazil, Italy, China, Hungary, Malaysia, Nigeria and Czech Republic to tackle energy and environmental challenges.
It means a great deal to be recognised by my peers
She said: "I am delighted to receive this award. It means a great deal to be recognised by my peers. I would like to thank the Women's Engineering Society."
The WE50 awards were judged by a panel of industry experts. Head Judge, Professor Catherine Noakes, OBE, said of the awards, "2020 was a year unlike any other and remarkable times call for remarkable people.
"That is why, in 2021, the Top 50 Women in Engineering Awards celebrate the engineering heroes who have responded to the challenges of an ever-changing world, from healthcare and climate change to infrastructure and championing diversity, with inspirational innovation and leadership. With over 230 nominations, only the exceptional made it to the top 50. The 2021 WE50 personify the inventive and inclusive thinking needed to build a sustainable future. If there was ever a time that we needed these heroes in engineering, it is now."
Elizabeth Donnelly, of WES, added: "The impact of engineering is as diverse as the people it benefits, which is why inclusivity is so important. The women represented in this year's WE50 are a testament to the fact that the more diverse the minds and voices of engineers are, the greater their influence will be. We are delighted to celebrate the trailblazing women whose work and advocacy are changing the shape of engineering in the UK."
---