Sustainability and the future of finance – box tickers needn't apply
By Jonny Munby ACMA
Principal Lecturer (International)
Ethics are core to the future success of the accountancy profession.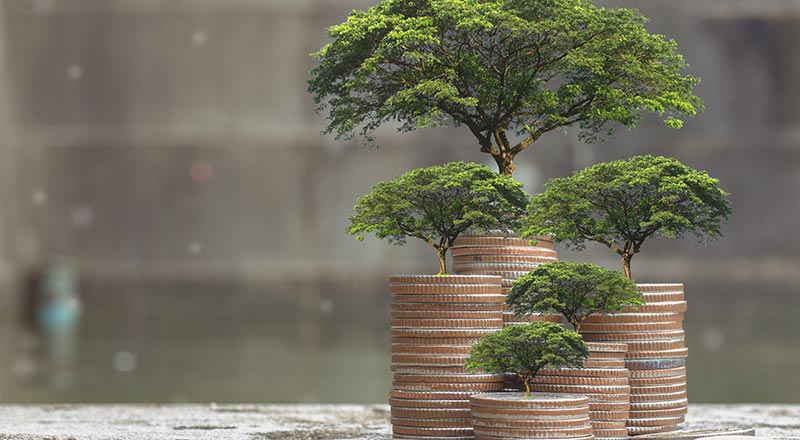 In the March 2021 budget, the chancellor Rishi Sunak announced the creation of a northern campus of the Treasury in Darlington. With the prospect of an army of financiers descending upon the Tees Valley, now seems a good time to reflect on the role of accounting and finance in organisations and the challenges it faces to stay relevant and deliver value going forward.
Testing the limits of compliance
The accounting profession maintains relatively high status and remuneration in the job market through its claims to both technical expertise and impartial, ethical conduct. Indeed, all members of professional accounting associations such as the Chartered Institute of Management Accountants, must pass an examination on ethics and adhere to an ethical code.
However, as can be seen in the scandals of recent years, including Patisserie Valerie, Wirecard, Deloitte and KPMG, financial reporting and auditing are not immune from the vices of unethical business.
These threats to impartiality include self-interest - 'the greedy accountant' - and undue familiarity and pressure from managers and clients regarding their own gains. My recent research with accountants indicated that these kind of pressures on accountants to adopt unethical practice are commonplace.
Historically, ethical and governance issues in accounting have been framed around agency theory. The role of accountants and auditors was justified in the serving of shareholders and their fiduciary interests; using impartial reporting to show them what was really going on, to protect them from the potentially devious or reckless actions of the directors, their agents.
It is, however, possible that for some accountants, claims of ethical impartiality are nothing more than a box-ticking performance in order to maintain an elite status.
This self-interested enactment does not provide enough motivation to remain ethical when adjustments aren't traceable, or the cameras rolling.
If this is a game of "keeping up appearances", accountants seem to concede many goals yet still seem to get away with the maintenance of the prestige of the profession. Compliance should not be the end goal, as accountants can be so much more than box-tickers.
Individual ethical accountability matters
My recent research explores the place of identity in ethical decision-making, touching on the motivating force of the "self" in psychology and sociology, and concludes that an aspiration to maintain a personal ethical identity is more effective in motivating ethical behaviour than regulations, standards or codes.
Asking professionals to engage in reflection and autobiographical narration, considering such questions as "How do you want to be remembered after you die?" are powerful tools in aligning identity, ethics and behaviours. This is a key insight if the trajectory of the profession needs steering in a more ethical direction.
In an age where governments are moving towards net-zero targets and where Generation Z is becoming a growing part of the consumer market, increasing expectations of authenticity, sustainability and ethical conduct are becoming central to consumer and investor decisions. Therefore companies and individuals must reconsider what part they have to play in the world.
Maximising shareholder wealth at the expense of people and the planet is no longer an option.
For an ESG-driven world, a fresh outlook
In his book, 'the Chief Value Officer', former Bank of England Governor Mervyn King argued that in order to confront and overcome the challenges of a resource-starved world, financiers need to reshape the way they see value – away from box-ticking and the pursuit of shareholder value at any cost - and support their business in delivering value to all relevant stakeholders: specifically with regard to operating sustainably.
Developments in popular definitions of corporate social responsibility have led to specific naming of ESG, (Environmental, Social and Governance) concerns as top priorities for companies and investors.
What place then do accountants have to play in the new landscape, especially as many of the data entry and data processing functions of accounting will become automated as a result of Industry 4.0?
They can no longer rely on their professional credentials to maintain their importance in the future job market or hide in their back-office silos, bookkeeping and adjusting complex ledger structures, focusing on an executive request to minimise the appearance of losses or debts, whilst also reducing tax liabilities.
Redefining and defending value
Accountants must reimagine themselves as expert influencers, interpreters of technical data, technology enablers, and strategic business partners.
The accountants of the future must combine technical knowledge with digital awareness and the soft skills of leadership and influence to add value to companies in a world where value has a much broader meaning than simply shareholders' profits.
Integrated Reporting, the combining financial reports with sustainability reporting, is becoming increasingly important.
Accountants can sit back and watch this happen or can lead the way to drive positive change.
A plethora of competing standards and codes have emerged in this area, and consultation is currently underway as to whether the IFRS foundation will take the lead in consolidating and publishing a set of international Sustainability Reporting Standards.
Accountants are ideally placed to be at the forefront, not just of driving the Integrated Reporting agenda but also the ESG agenda in their companies.
To secure the future of the profession, it must reconsider its core purpose and open a discussion about how to attract the right kind of people and how to use the professional examination and initiation process to shape the aspirational identities of those who chose the profession, so they can see themselves as ethical value-driven leaders.
Jonny Munby ACMA is Principal Lecturer (International) at Teesside University Business School.
---