In the wake of the pandemic, we need clearer thinking on how charities and businesses work together
By Dr Jen Hagan

Cross-sector partnerships – long-term partnerships between organisations from two different sectors – have the potential to solve society's 'big issues' and change the way organisations operate.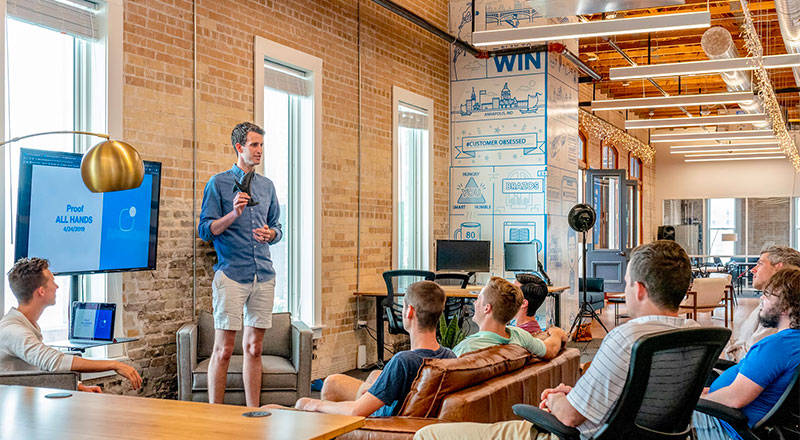 Experience shows though that these partnerships often don't deliver the value they promise. These concerns now need to be addressed – particularly when the organisations collaborating are charities and businesses.
The critical role the Voluntary, Community and Social Enterprise (VCSE) sector plays in UK society was recently highlighted by the latest findings from the National Council for Voluntary Organisations Almanac. Currently, over 166,000 charity and voluntary organisations contribute £18.2billion to the UK economy, support 909,000 jobs (2018/19) and manage 19.4 million volunteers each year.
Anyone who has had to call on help from these organisations knows how vital they are. In many cases they deliver services traditionally provided by the public sector in areas like safeguarding, green space management and homelessness. They are important to our overall wellbeing. There's no doubt: they need and deserve all the support they can get, and we need to find every way possible to make sure that support is effective as it can be.
Pandemic increases demand for services
The ongoing pandemic means that charities also now face greater demand for their services than ever before. That impact is going to last. According to the latest Pro Bono Economics Tracker, three quarters of charities expect long-term higher demand from people facing unemployment, financial problems, the threat of eviction, food poverty and many other issues. This is evident in our own region here in the North East, where mental health charity Mind recently called for more volunteers and support to meet a crisis in demand, and where people receiving food parcels has tripled.
Most charities are also facing serious shortfalls in revenue and funding needed to meet these challenges. While voluntary sector income and expenditure is growing, it is rising more slowly than in previous years, and income from government is at its lowest point.
The big question now is – how can the VCSE sector gear up to meet new demand, deliver services that are so needed, and ultimately be more sustainable?
New thinking is required
A large part of the answer lies in re-engineering how enterprises and businesses work with VCSE organisations to support projects and deliver services. While there are many examples of partnerships that have achieved a lot of publicity and success – from M&S's partnership with Macmillan, to Innocent's partnership with Age Concern – there remain fundamental issues in the way most partnerships are set up and run.
The potential benefits for VCSE-private sector partnerships are often compromised because businesses increasingly need to tick corporate social responsibility boxes. On the other side of the equation, charities, community interest companies, and even sole traders with primary social purposes are constantly pressured to deliver outputs and secure basic funding targets for survival. The result is a partnership essentially based on numbers. The purpose is economic, rather than social. In the generic VCSE-private partnership, donations and volunteer time are simply exchanged for customer reach and profit.
There are of course partnerships that go above and beyond this. Some value-based private organisations have helped create real change for communities, with long-term, employer-supported volunteering schemes that have provided strong support for VCSE organisations' financial sustainability. However, even in these partnerships, how much are the organisations truly developing, learning from each other and growing? How much are these partnerships creating systemic change for the organisations involved and their respective sectors?
Most charities of any shape, size and purpose will admit feeling held back by having to constantly deliver and report against short-term and numerical targets created by partnerships. This effectively becomes a tick-box exercise, and seriously impacts their ability to build capacity and capability in other key areas. For instance, many charities still need to expand their ability to use data more effectively to provide more relevant services, and attract new sources of funding. The way cross-sector partnerships with businesses generally work might get the job done, but they aren't always helping either sector to grow or plan as effectively as they could.
A way forward
To address this, we need a model that will help the VCSE and businesses work more effectively together based on knowledge exchange, capacity building and continuous improvement. Knowledge sharing and exchange brings organisations together, building consensus on ways to approach issues or increasing the transfer of best practices.
To make this happen, knowledge needs to be acknowledged as something both organisations have that is distinct, but equally influential, and therefore valuable to both parties. The respective knowledge on both sides of the partnership needs to be respected and be shared. Enterprises, for their part, should be bringing their expertise in business intelligence, strategic management and marketing knowledge to the table. VCSE organisations, on the other hand, can offer skills in community engagement, social value generation and volunteer/staff motivation that could be of great value to the profit-making commercial sector.
VCSE-private sector partnerships should be driven by capacity-building, not everyday operations, and not growth based on revenue and reach in the way we usually think of it.
Both sectors need to be resilient, agile, have their ears to the ground and consider the bigger picture. If partnership thinking is based around these goals, before a partnership is even created, then the value generated will be so much greater both within and outside organisations. Economically, socially and environmentally.
Of course. bringing about change is the bread and butter of VCSE organisations. Ultimately, cross-sector partnerships in any form should help them achieve that. But both sectors need to be more ambitious than that. Asking simply 'how can this partnership improve us both' would take things so much further in terms of creating a sustainable partnership. It would also help stimulate the bigger thinking that is required, and drive a new, universal ethos of continuous improvement that will benefit us all.
---