Prestigious international recognition for academic's research
A Teesside University expert in mechanical engineering has won prestigious recognition for his research from an international professional organisation.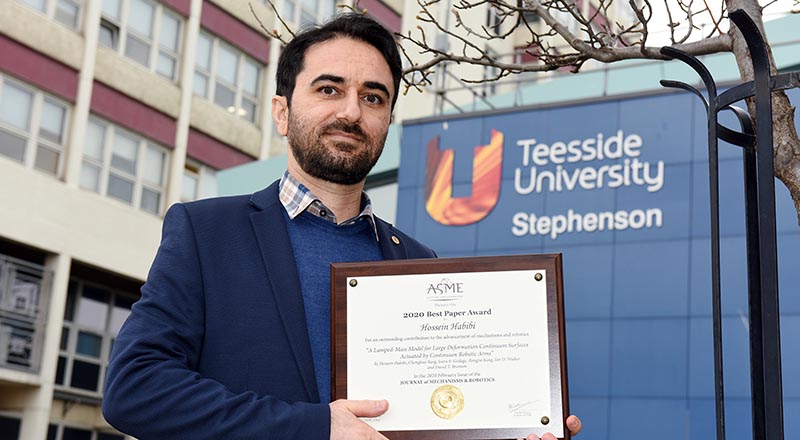 Dr Hossein Habibi, Senior Lecturer in Mechanical Engineering in the University's School of Computing, Engineering & Digital Technologies, has been named winner of the 2020 Best Paper Award by the American Society of Mechanical Engineers (ASME) in the Journal of Mechanisms and Robotics.
ASME, which has more than 90,000 members worldwide, promotes multidisciplinary engineering around the globe. The ASME Best Paper Award recognises outstanding research selected each year by the editor and editorial board of ASME journals to promote high quality research papers in mechanical engineering.
The research project led by Dr Habibi examined the use and development of 3D flexible surfaces and elastic pads which are increasingly in demand for use in robotic applications in areas such as healthcare, automotive, aerospace and manufacturing.
It was discovered during the research that design and control was largely based on 'trial and error', requiring considerable time and cost. The research findings led to development of a robust, reliable model which can change shape and adapt to a wide variety of robotic-based flexible surfaces with different mechanical properties.
It is an honour for my research to be recognised in this way
The model allows control strategies to be applied to a wide range of robotics applications in different industries and sectors, from manufacturing environments to healthcare, aerospace and automotive, energy and food processing.
In recognition of his award, Dr Habibi was invited by ASME to speak about his research at a spotlight session held during the 2021 International Design and Engineering Technical Conferences.
Dr Habibi said: "It is an honour for my research to be recognised in this way and it was a privilege to be invited to speak about the findings. We are hopeful that it will help to bring benefits for a wide range of industries and sectors."
---