Teesside University delivers world-leading research that transforms lives and shapes society
From improving cancer treatment for children, tackling childhood obesity, or helping to move towards cleaner, greener energy provision, research from Teesside University has been shown to demonstrate considerable impact which positively transforms lives.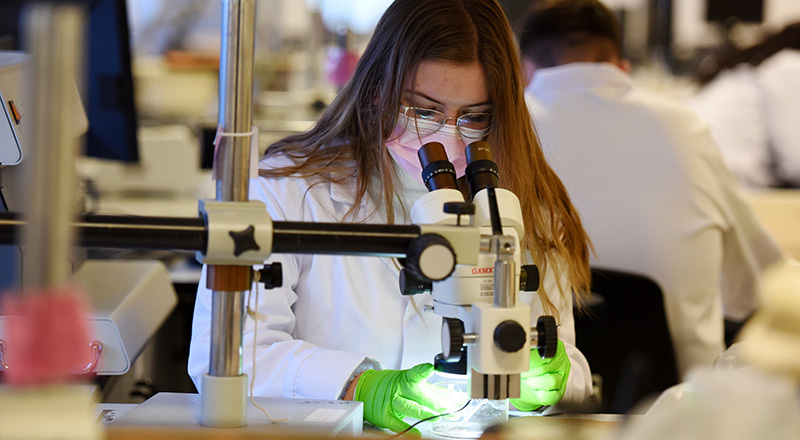 The results of the Research Excellence Framework (REF) 2021 were published today (12 May) and saw Teesside University almost double the volume of its 'world-leading' research, as well as significantly increase the number of research active staff.
The REF takes place every 6 to 7 years to assess the quality of research across UK universities and is a significant factor when determining research funding.
Teesside University significantly increased the volume of staff and research submitted compared to the 2014 REF, whilst maintaining or enhancing scores across the three main criteria – output, impact and environment.
Case studies detailing the economic, cultural and social impact of the University's research included strengths in smart energy solutions, public health, combatting organised crime, and diversity in the arts.
Teesside University also increased the proportion of research classed as 'world-leading' or 'internationally excellent' – with almost two thirds of research falling into those three and four star categories. The proportion of four star 'world-leading' work almost doubled compared to the 2014 submission.
Teesside University recently launched its 2022-2027 Research and Innovation Strategy – Recovery, Regeneration, Renewal. The strategy sets out a focus on research that will contribute to improving health and wellbeing, reducing social inequality, advancing affordable and clean energies, and developing sustainable cities and communities.
Vice-Chancellor and Chief Executive of Teesside University, Professor Paul Croney OBE, said: "We have embedded a culture here at Teesside University that invests in and supports high-quality, impactful research which can make a significant difference to individuals, organisations and society.
"The results from the Research Excellence Framework demonstrate our commitment to levelling-up, driving social impact, improving health and wellbeing and supporting the net zero agenda.
"Not only have we significantly improved the number of staff who have submitted to REF, but we have ensured that this work has considerable and measurable impact which helps to transform lives and economies."
Professor Steve Cummings, Pro Vice-Chancellor for Research and Innovation at Teesside University added: "I am delighted to see the positive results from the Research Excellence Framework - it shows that we are delivering on our objectives to grow research at Teesside.
We have embedded a culture here at Teesside University that invests in and supports high-quality, impactful research which can make a significant difference to individuals, organisations and society.
"It is particularly pleasing to see a considerable increase in four-star, world-leading research. This will help us secure quality related research funding, enabling further investment in research that shapes society."
Areas of strength, which demonstrated considerable impact in REF, included:
Smarter, greener energy solutions:
Researchers at Teesside University have developed smart tools that automatically adapt to changing energy demand and production. This work has led to more accurate predictions of energy need and a significant reduction in energy wastage. And, in collaboration with industry, Teesside University research has enabled wind energy to be integrated into the National Grid - resulting in over 4.2 million homes in the UK being powered by offshore wind.
Combatting organised crime:
Organised crime, such as counterfeiting, drug and tobacco smuggling, presents considerable risk to society. Tackling organised crime requires new legislation and enforcement action. Research carried out at Teesside University has informed the development of key national security strategies to counter criminal activity and illicit financing, helping to make communities safer and reducing social harm.
Curbing childhood obesity:
Over 38 million under-5s in the UK are considered overweight or obese, putting them at risk of health complications and impacting their quality of life. Advertising products that are high in fat, sugar or salt directly to children is a significant factor in childhood obesity. Research from Teesside University resulted in new rules banning the advertising of these products in children's media, improving the health and wellbeing of the nation's young people.
Placing disability arts centre stage:
One billion people globally have health problems that lead to disability. Yet disabled people are often excluded from cultural experiences, such as art, theatre, dance and music. By preserving hidden histories of disability, researchers at Teesside University have ensured the creativity of those with disabilities is centre stage in the arts and mainstream media. This work has improved the representation of disability in public and cultural spaces, driving positive social change and inclusivity.
---