Media students in the spotlight
Talented media students have received prizes for their work and creativity at Teesside University's annual Journalism Awards.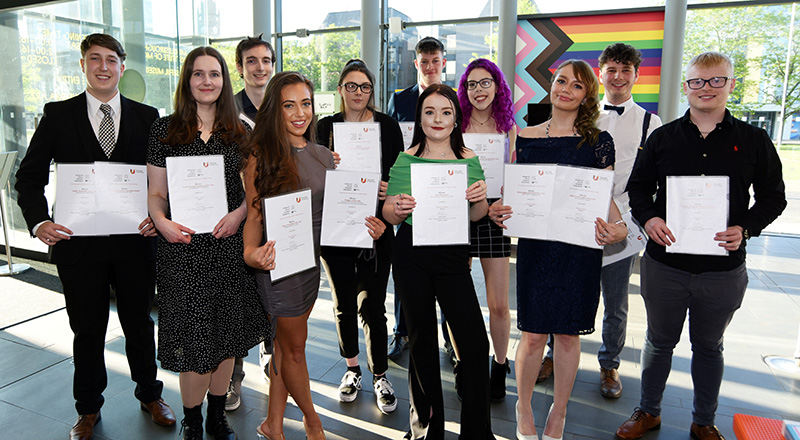 The event, which was hosted by Helen Dalby, Audience and Content Director at Reach North East and Yorkshire, took place at the Middlesbrough Institute of Modern Art as part of the University's final degree show.
Journalism students received awards based on exceptional work produced during the past academic year.
The winners each receive a week's work experience at the company which sponsored the individual award.
Students were commended for the skills learnt on the BA (Hons) Journalism; BA(Hons) Sports Journalism and BA (Hons) Public Relations and Digital Communications degrees.
Among the awards were Broadcast Journalist of the Year, Best Sport Feature Writer and Blogger of the Year.
Prizes included a number of work placements with Teesside Live and The Hartlepool Mail, along with work experience at BBC Tees, Bauer Media and ITV News.
A number of special academic awards were also given out, including the award for the best degree final projects.
Award's host Helen was promoted to digital editor in 2012 and was closely involved in the award-winning digital newsroom transformation which was piloted in Newcastle and Teesside in 2014 before being rolled out nationally.
Paul Bailey, Course Leader for Journalism in the School of Arts & Creative Industries, said: "These awards recognise the hard work and excellent calibre of our current journalism students and the students were thrilled to be awarded their prizes by Helen.
"I would like to thank all of the media organisations who generously contributed prizes to this celebration of our students' achievements."
The award winners were:
Vlogger of the Year - sponsored by Teesside University Communications and Development
Winner: Holly Havelock
Content Producer of the Year - Sponsored by Middlesbrough Institute of Modern Art (mima)
Winner: Tyler Atkinson
Feature Writer of the Year - sponsored by The Northern Echo newspaper
Winner: Scott McDonald
Multimedia Journalist of the Year - sponsored by Teesside Live
Winner: Martyna Dydyk
Community Reporter of the Year, sponsored by The Hartlepool Mail newspaper
Winner: Alicia Cuthbertson
Audio Journalist of the Year, sponsored by Bauer Media
Winner: Chris Cassidy
Video Journalist of the Year, sponsored by UK Local TV
Winners: Alfie Lambert and Holly Havelock
Digital Communications Student of Year, sponsored by Harvey and Hugo PR Agency
Winner: Carina Gama
Ali Brownlee Sports Coverage Award –sponsored by BBC Tees
Winner: Chris Cassidy
Creative Communications Campaign – sponsored by Durham County Cricket Club.
Winner: Jamie Smith
Public Relations Student of the Year – sponsored by DTW PR Agency
Winner: Sarah Peacock
Broadcast Journalist of the Year – sponsored by ITV News
Winner: Charlotte Simpkin
Portfolio of the Year – sponsored by Great North Air Ambulance Service
Winner: Sarah Peacock
Sports Feature of the Year – Sponsored by MFC Foundation
Winner: Tyler Atkinson
Best Newcomer – Sponsored by Teesside University
Winner: Gemma Woolston
Best Final Project – Sponsored by Teesside University
Winners: Sarah Peacock and Martyna Dydyk
---