Teesside University alumni reconnect at summer reunion
Members of Teesside University's alumni community were joined by an internationally renowned mountaineer when they returned to campus for a special reunion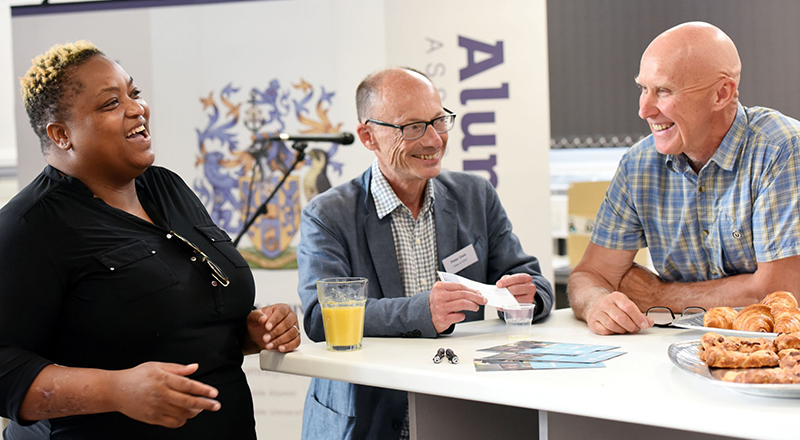 Over 50 guests came together for the Alumni Summer Reunion, which welcomed honorary graduate Alan Hinkes OBE as the guest speaker.
Attendees enjoyed tours to see how the campus had developed over the years, visited Teesside University's start-up incubator, Launchpad, and networked with fellow graduates from across the years.
The event also welcomed extreme altitude mountaineer, Alan Hinkes OBE, who made history as the first Briton to successfully scale all 14 of the world's highest peaks, each standing at over 8,000m.
He shared stories about his adventures and how he overcame challenges to achieve such a monumental and dangerous mountaineering goal.
Alan said: "I always appreciate a visit to Teesside University and Middlesbrough. I really enjoyed meeting graduates and giving a talk about my mountaineering exploits, which went down well.
"I explained my local roots and links with the University. I even got the chance to have a brief climb on the indoor rock-climbing wall."
Heather Carabine, who studied BSc (Hons) Psychology and Counselling and graduated in the class of 2016, was excited to return to the University for the event.
She said: "It was lovely to be back on campus because it changed my life so much. It was really good to meet other people that I didn't know that had also broken through a lot of barriers to be successful – I found that inspiring.
"When I started university, I didn't know that I had dyslexia, I didn't know that I had prosopagnosia and I didn't know that I had visual processing issues. When I came onto the campus it was a huge learning curve for me.
I really enjoyed meeting graduates and giving a talk about my mountaineering exploits.
"I found that the lecturers were so helpful - they were absolutely amazing. They observed that I was having difficulties and we started to put strategies in place.
"I was given a lot of help in terms of extra support, extensions to deadlines when I needed them and encouragement, which is what I really needed. They helped me to believe in myself and so I managed to get through the years one at a time.
"I'm now an assistant behaviour practitioner chiefly using applied behavioural analysis, which is psychology-based, in my work in which I observe and analyse behaviour." Teesside University boasts a global network of more than 100,000 alumni who can be found in over 100 countries throughout the world.
As the community continues to grow, the University has launched a new survey to help shape the alumni experience, better understand the needs of its alumni and strengthen its connection with former students.
The survey is open until 12.00pm on Wednesday 10 August 2022 and should take no longer than ten minutes to complete.
On completion of the online survey, participants will be entered into a prize draw with the chance to win one of several prizes of up to £250 of Amazon vouchers.
---
In the News
Teesside University alumni reconnect at summer reunion
North East Connected, Web, 05/07/2022 Members of Teesside University's alumni community were joined by an internationally renowned mountaineer when they returned to campus for a special reunion.