Human rights defender inspires the next generation of legal professionals at Teesside University
Harriet Wistrich, a prominent human rights solicitor, shared her experiences of handling a number of high-profile cases with students from Teesside University's Law Society.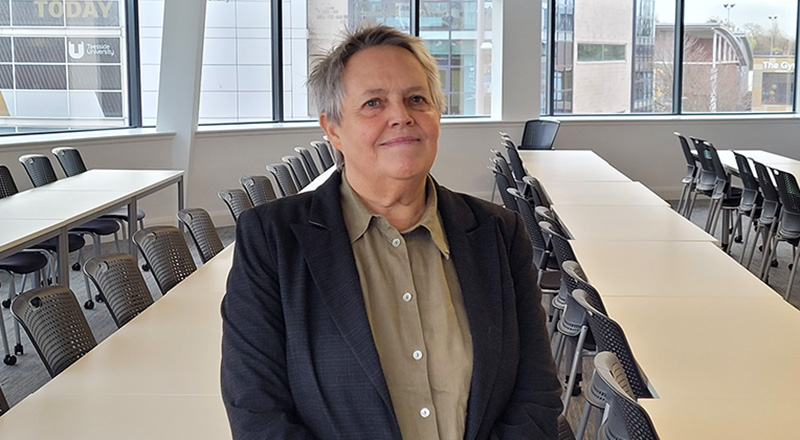 Most notably, Harriet represented two rape victims of infamous black cab driver John Worboys and demonstrated that police response and failure to investigate violated the Human Rights Act.
She also acted for women who had been deceived in sexual relationships with undercover police officers, securing significant compensation and a public apology.
Harriet reflected on her career and shared expert insight into these cases and more at her talk, titled A feminist approach to practising law, which she delivered to Teesside University students with an interest in law.
She said: "I've had a few cases that I've been involved in that have been impactful. The talk gave me chance to discuss some of the issues and try and inspire people to get involved in law.
"It is a good process to reflect on what you've done and what you've achieved."
Her thought-provoking talk encouraged open discussions with students around the details of the cases, and inspired participants to explore issues surrounding the criminal justice system.
Joshua Williams, President of the Law Society, who is in the first year of his LLB (Hons) Law, Criminology and Criminal Justice studies at Teesside University Law School, said: "It's been an amazing talk. I'm hoping to be a barrister in family law and around domestic abuse. The cases discussed have been really interesting, and the talk has definitely been helpful for when I come to research my dissertation.
The cases discussed have been really interesting, and the talk has definitely been helpful for when I come to research my dissertation.

"This is our second talk of the academic year so far, and we've got another one coming up in December. We're looking to get some MPs in, and we're looking at doing trips, especially to the Supreme Court in Manchester."
Harriet's important work has been recognised through the many accolades she has received throughout her 25-year career, including the Liberty Human Rights Lawyer of the Year award in 2014, the Legal Aid Lawyer of the Year award in 2018 for public law, and Law Society Gazette Personality of the Year in 2019.
Her journey into law began when she was campaigning around women's rights. She continued on this trajectory and now makes a difference to the lives of women and children in a professional capacity.
The award-winning solicitor is also the founder and Director of the Centre for Women's Justice, which works to advance human rights of women and girls in England and Wales.
The talk was delivered as part of a series of guest speaker events held by Teesside University's Law Society, which is free to join this year.
---