Teesside University academic to share expertise in managing chronic pain
A national campaign which aims to change the way people understand and manage chronic pain is bringing a special event to the area, led by a Teesside University academic.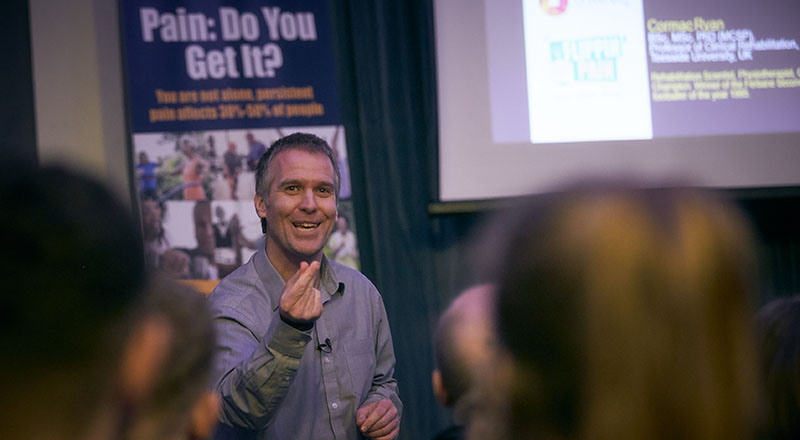 Professor Cormac Ryan, Professor of Clinical Rehabilitation in the University's School of Health & Life Sciences, is a community pain champion for the Flippin Pain campaign which aims to change how people think about, talk about, and treat persistent pain.
Flippin Pain is working with Tees Valley Sport to bring When Pain Gets In The Way, a special free admission event aimed at anyone working with people affected by chronic, long-term pain. It will be held at the Riverside Stadium on Wednesday, 15 February.
The guest panel, led by Professor Ryan, will discuss the commonly misunderstood condition of chronic pain, from some of the lesser-known complexities of pain, to the myths which are often a barrier to effective management.
The speakers and expert panel, which will include clinicians and people living with persistent pain, will share insights, answer questions, and encourage the audience to consider whether they might need to 'flip' the way persistent pain is thought about, talked about, and treated.
Professor Ryan, who has around 15 years' experience of working in the field of chronic pain and pain education, said: "I'm delighted that the Flippin Pain campaign is coming to the Tees Valley.
I'm delighted that the Flippin Pain campaign is coming to the Tees Valley.
"There is a high prevalence of persistent pain in this region, and it has one of the highest opioid prescribing rates in the UK.
"Empowering people with pain - along with their friends and relatives, and health professionals - with a better understanding of persistent pain, through the campaign, is a crucial step towards tackling this major public health issue and promoting better pain management for all.
Robin Bedford, of Tees Valley Sport, said: "Living with chronic pain is one of the main reasons people are inactive. We hope by putting these events on, that we can help people to get active and get all the health benefits even doing something as simple as regular walks or gardening brings.
"The event is aimed at anyone who is in a frontline non-medical health and social care role which involves offering advice, treatment, or support for people living with pain. This can range from professionals in the health or social care sector, to those working in the fitness and wellness sector."
---