Helping Tees Valley SMEs combat climate change
Climate change is a threat to humanity and thus causes unprecedented concerns among firms, society, investors, and policymakers alike. Energy efficiency is one way to reduce carbon emissions and counter climate change. Ironically, most prior research focuses on the energy efficiency of a large firm.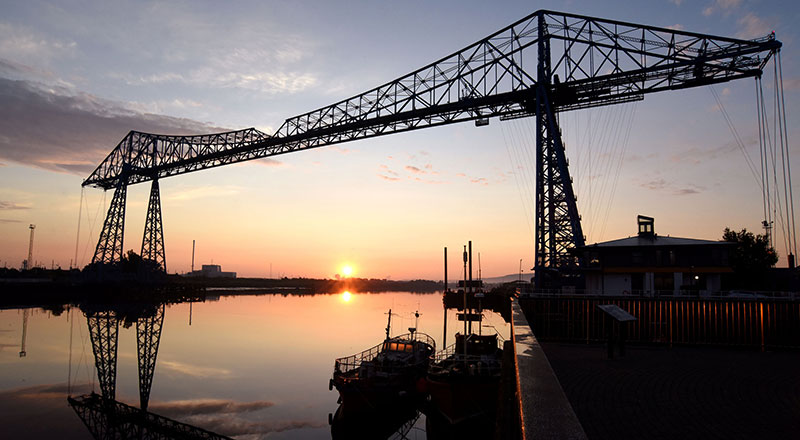 Small and medium enterprises (SMEs) have been largely ignored by climate researchers even though they account for a substantial proportion of private-sector economic activity in the UK. In Tees Valley, a 2021 monthly economic update shows that out of 17,610 businesses in Tees valley,17,610 (99.5%) have been classified as SMEs.
In Tees Valley, an SME's energy efficiency could play a critical role in shaping its operation and creating sustainable value creation, as well as helping to counter climate change. A team of researchers from Teesside University International Business School (TUIBS) recently carried out a research project to understand how SMEs in Tees Valley may reduce carbon emissions. The project sought to examine the challenges faced by SMEs in reducing their carbon emissions, the level of awareness of energy efficiency and carbon emission reduction in SME operations, the behaviours affecting energy use amongst SMEs, the measures that can help SMEs reduce their energy consumption, and how local policymaking in the UK can encourage and help SMEs to limit their contribution to carbon emissions.
The research was conducted in two stages. In the first stage, the researchers gathered responses from owners/managers/supervisors of SMEs in the Tees Valley through questionnaires. After analysing this dataset, the researchers found that:
green planning activities can enhance the energy efficiency orientation of SME owners, managers, and supervisors.
sharing of green practices among the SME owners, managers, and supervisors through green networking enhances the energy efficiency orientation of the SMEs.
selection of green SME approaches have a beneficial impact on energy efficiency orientation.
green networking reinforces the beneficial relationship between energy efficiency orientation and overcoming barriers to green practices by SMEs.
In the second stage, a more in-depth analysis was conducted by interviewing SME owners and managers. The analysis of this dataset revealed that although SMEs are aware of their energy consumption levels, they are not aware of their CO2 emission levels. Neither are they concerned about measuring their CO2 emission levels. However, SMEs want to reduce their energy consumption, primarily, to reduce their costs and maximize profits, and hence they look for ways to reduce their energy consumption levels. Only a few big SMEs find environmental protection and climate change mitigation as a reason to reduce their energy consumption levels. Overall, SMEs give more attention to energy consumption than CO2 emissions.
Based on their findings, this research offers the following recommendations to the UK government, the Tees Valley Combined Authority (TVCA), and policymakers.
Develop green networks
Given the relative importance and the role of green networking in helping SMEs to overcome barriers to green SMEs and reduction in carbon emissions, the TVCA should consider developing SMEs' green network platforms to promote the sharing of best green practices among the SMEs in the region. This can either be a website, an app, or any other platform for discussing energy efficiency issues.
Offer sustainability training
To promote green SME initiatives and to set the 'tone at the top', the owner, senior manager, supervisors, and other strategic level managers (e.g., operation managers) of SMEs must be encouraged to attend training and workshops on energy efficiency and sustainable business operations.
Promote carbon reporting to business leaders
The TVCA, in collaboration with academic institutions (such as the Net Zero Industry Innovation Centre/Teesside University), to start a consultation on setting up training and certification courses for SMEs owners and managers in carbon reporting (e.g., carbon capture) in a bid to attract and train more top-level managers on carbon footprint strategies.
Green energy tax incentives
The government can entice SMEs in the region to reduce their dependence on the national energy grid by giving a tax rebate to all SMEs adopting alternative sustainable/green energy sources.
Recognise excellence
The TVCA, in collaboration with governance-related institutions may set up an annual Green Award Scheme for SMEs and their employees who make outstanding contributions to the green SMEs agenda in the region.
Nurture the next generation
Sustainability should be part of the educational curriculum in universities, colleges, and schools to ensure that academic institutions will train professionals with ethical and sustainable principles.
Financial support
The TVCA, in collaboration with governance-related institutions should design financial packages to support the greening of SMEs in the region.
Better understanding
The TVCA, in collaboration with academic/governance-related institutions (such as Teesside University), to commission an in-depth study of how SMEs in the region can embed green cultural practices, manage the green transition and thereby serve as a catalyst to create green jobs in the region.
Dr. Douglas Adu(1), Dr. Mudassar Hasan(1), Dr. Xiaoxian Zhu(1), Dr. Xihui Chen(2) , Dr. Nugun Jellason(1), Liyanage Rodrigo(1), and Lolita Asheri(1)
1 Teesside University International Business School, Teesside University
2 Edinburgh Business School, Heriot-Watt University
---