Talented animator retains links with Teesside through Animex
An animation graduate who works across games, children's television shows, short films and commercials, is continuing her links with Teesside University by designing the character mascot for this year's Animex Festival.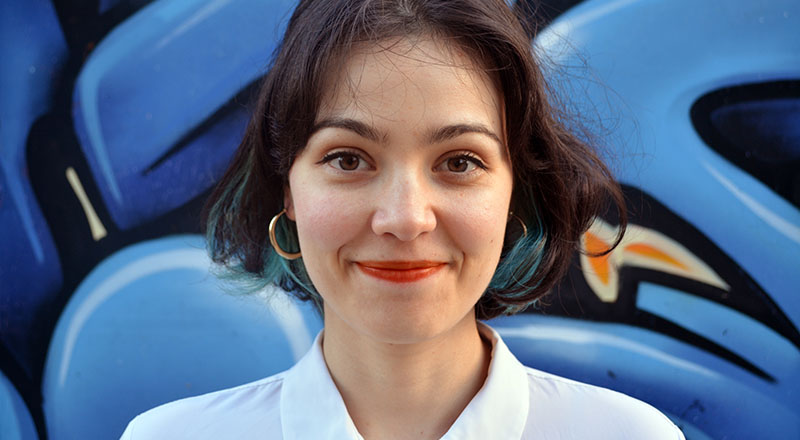 Animex, which is now in its 24th year, celebrates the best of animation, VFX and computer games, with screenings, workshops and exhibitions. The festival includes an exciting line-up of animation, games and VFX expert speakers, who share unique insights into their industries.
3D animator Bianca Iancu is the animation lead at Caerphilly-based Bomper Studio and specialises in leading teams to create character animations which connect with a wide range of audiences in the short-form space.
Bianca, who graduated from Teesside University's 3D Computer Character Animation course in 2014, first attended Animex while completing her degree.
She said: "I first attended Animex as a student in 2013, then in my final year as a volunteer.
"After I graduated, I came back to Animex a couple of times, once I was working in the games industry and then last year, I was asked back to speak at the festival.
"I gave a talk on 3D animation workflow on two kids' television series that I had recently helped to animate; Go Jetters for the BBC and Pip & Posy for Magic Light Pictures. It was a brilliant experience. I met a lot of great people, as well as some personal heroes and I love being able to give back to students, whose shoes I was in not that long ago."
Through her links with Animex, Bianca was invited to design the character mascot for this year's festival, which takes place from November 6 to 10.
The inspiration behind the idea was passion and creativity
Bianca said: "I was delighted to be asked to design the mascot, and also a bit nervous. I felt a sense of responsibility, because Animex is something that I was so close to over the years.
"The inspiration behind the idea was passion and creativity which were key words within the brief. They resonated with me, reminding me of Elizabeth Gilbert's famous TED talk about the 'elusive creative genius'. I took that idea and ran with it, while also incorporating a more illustrative style that I felt would work better for Animex."
"I eventually went with a Betta fish. It captured the essence of what I was aiming for. As well as being an elusive ethereal sea creature, I also wanted it to be cheeky, in that 'I know something you don't' sort of way."
She added: "I knew from the start that I wanted to match the style of the branding that already existed. The Animex branding has a teal and orange colour palette, so I wanted to incorporate those lovely, complementary colours into the final design, while still making sure the character stands out."
Bianca is passionate about adapting visual storytelling across different mediums and is inspired by how art and technology play a part in shaping our view of the world.
---
In the News
Talented animator retains links with Teesside via Animex
Northern Echo, p.32, Print and Web, 24/03/2023 The Animex Festival is now in its 24th year and has a new character mascot designed by Teesside graduate, 3D animator Bianca lancu
---
Pip and Posy animator designs Animex Festival '23 mascot
Prolific North, Web, 23/03/2023 Bianca Iancu, lead animator at Caerphilly's Bomper Studio and a Teesside University graduate, has designed the mascot for this year's Animex Festival.