Inspiration from book leads to Great Create success
The world of books provided the inspiration for creatives who submitted entries for this year's MIMA Great Create.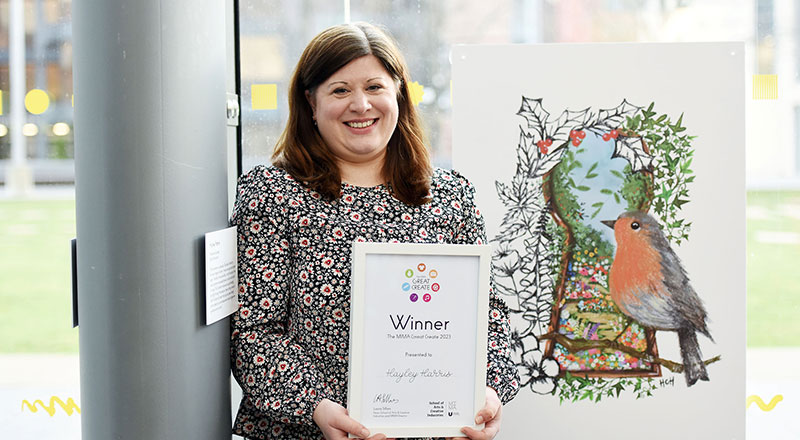 Launched last year by Teesside University's School of Arts & Creative Industries, in collaboration with MIMA (Middlesbrough Institute of Modern Art), the MIMA Great Create is an annual call for creative pieces. The theme this year was a celebration of the world of books.
Around 100 entries were received and five finalists selected. An illustration called Secret Garden, created by Hayley Harris, was chosen as the winning submission by a team of judges from across the creative industries.
Hayley said: "My illustration is inspired by Frances Hodgson Burnett's book, The Secret Garden. I feel a strong connection with the book and characters, having lost a parent and being surrounded by wildlife and nature has helped to heal, give guidance and comfort.
"The scene that I chose to encapsulate is when the robin shows the way to the door and sadness is given some light and healing through nature."
Hayley added: "In my illustration, one side represents the four seasons in black and white, to show sorrow and grief. This gradually transforms into colour where nature heals the pain and shows light again.
"My background is in graphic design and illustration, and I wanted to use my techniques and knowledge of Adobe photoshop, along with my experience of brush techniques and what I have learned over the years to produce a piece of digital art."
It's been brilliant and it's given me confidence to progress with my artwork.
Describing the process in creating the illustration, Hayley said: "I was capturing different ideas and doodles in a sketch book and then did an A5 size illustration with a black pen. From that little sketch, it resulted in the final piece."
Her advice for those thinking of responding to future calls for The MIMA Great Create submissions: "Let your imagination run wild and don't be afraid to let your artwork out into the world. It helps others in giving encouragement and a bit of inspiration.
"It's been overwhelming, I've loved every minute. I never actually ever thought that I would win. It's been brilliant and it's given me confidence to progress with my artwork."
Angela Lawrence, Associate Dean (Marketing & Recruitment), School of Arts & Creative Industries, said: "The submissions this year were quite outstanding, full of creativity and imagination, making the judges jobs incredibly challenging."
The judges for The MIMA Great Create this year included Alex Kerman, of Adobe UK; artist, illustrator and Teesside University academic, Amy Dover; MIMA artistic director Elinor Morgan; Viz cartoonist and co-editor Graham Dury; MIMA Great Create winner 2022 Jonathan Raiseborough; Dr Rob Burton, Associate Dean in the University's School of Arts & Creative Industries; B Deveraj, School of Design and Innovation at RV University in India
---