MP applauds campus health developments at Teesside University
Middlesbrough MP Andy McDonald says he was "blown away" by Teesside University's facilities and potential, during a recent visit to the campus.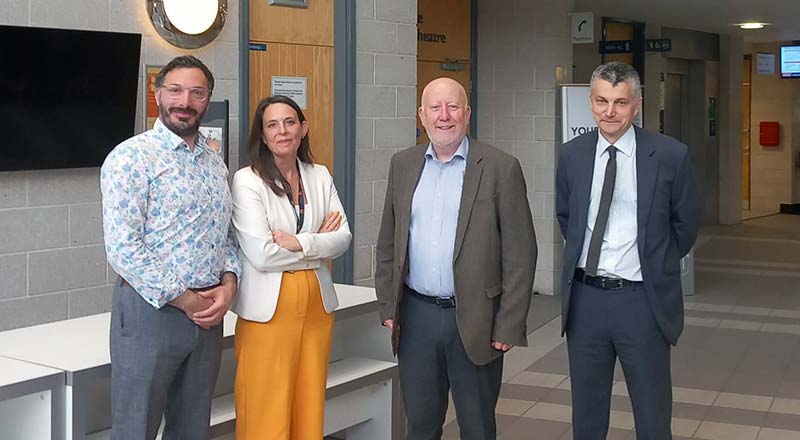 The MP met with senior colleagues at Teesside University and was shown around the School of Health & Life Sciences. He was also given an update on BIOS, the new £36.9m facility which is nearing completion.
BIOS will offer high-quality, leading-edge laboratories for sciences and clinical subjects including anatomy, pharmacy, microbiology, chemistry, earth sciences and food science students.
Mr McDonald, who also visited the University's dental hygiene and therapy service, said he was "blown away" by the University's "game-changing" plans and development.
He said: "I don't think it's any exaggeration to say what is going on at Teesside University, in the School of Health & Life Sciences, could be a game changer for both people in Middlesbrough and our National Health Service.
"That such a staggering number of people – and most of them local – are currently being educated in such critically important healthcare disciplines here on Teesside is fantastic.
"It's amazing to think that with the work of the University and the forward-thinking partnerships in place that Middlesbrough and its people can be central to a fit for the future NHS.
"The ambition of the University is both inspirational and phenomenal, and the game-changing proposal to develop a medical offer at Teesside is tremendously exciting. I'm blown away."
The ambition of the University is both inspirational and phenomenal
Mr McDonald was also impressed by the free dental hygiene and therapy service offer, which extends to a variety of treatments available to people across Teesside as well as staff and fellow students at the University, with the facility approved by the Care Quality Commission.
Professor Tim Thompson, Dean of the School of Health & Life Sciences, explained to the MP during the visit how the University works closely with local NHS Trusts and the Integrated Care Board to identify and support future workforce demands.
Professor Thompson said: "We always strive to meet the demands of regional and national employers. BIOS will help us to provide more modern, flexible and digitally-enabled learning spaces to help train the next generation of health professionals and provide a compassionate, forward-thinking and inclusive learning environment. It will also allow us to bring together delivery of health and human sciences subjects, providing a holistic view of the healthcare-bioscience ecosystem."
The School of Health & Life Sciences has around 10,000 students on undergraduate, post graduate, continuing professional development courses and degree apprenticeships – with around 80 percent of those students coming from Teesside.
---