Maria O'Hanlon
PhD Researcher – Microbiology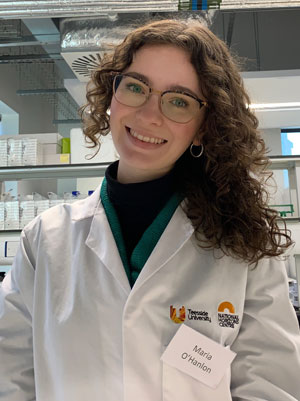 Why Teesside?
The networking and collaboration opportunities at Teesside are great, there are many opportunities to work with industry professionals and use high-quality equipment.

For my PhD., I am based in the National Horizons Centre, a multi-million-pound investment for the biosciences and healthcare sector. It's filled with highly specialised equipment that I wouldn't have had the opportunity to use if it wasn't for the University's investment.

How is your experience as a PhD student?
It has been an interesting and varied experience so far, I have attended conferences both in-person and online and have had the opportunity to deliver research presentations during internal research seminars.

What opportunities have you had?
Having the opportunity to be involved with the Teesside, Hull, and York Mobilising Bioeconomy Knowledge Exchange (THYME) project has been great. I have improved my communication skills by taking part in science outreach activities with local primary schools and talking about experiments and techniques with the students.

Working with THYME allowed me to present my research to older students at local schools and colleges, but also with over 200 children from the United States which is an amazing opportunity.

What skills have you gained?
My understanding in areas such as genetics and molecular biology has developed both theoretically and practically since starting my research. Learning techniques and performing experiments regularly with quality equipment has helped.

I have improved my ability to communicate and have developed my leadership skills by being the PhDoperations representative for the National Horizons Centre. Being in a management position and taking charge of running laboratories has taught me a lot about how I could one day run my own lab.

What do you think about the campus and the services?
For my PhD I am based at the Darlington campus. Although smaller than the main campus, I never feel as though I am missing out on the full Teesside experience thanks to the cafe, library, and workspaces that the campus provides. I am incredibly lucky to work at the National Horizons Centre, where I use the laboratories with cutting-edge equipment, computing suites, and new technologies.

Would you recommend Teesside?
Yes, the staff are friendly and help with any problems, it's a lovely place to work and study. The facilities and equipment are excellent and make for a perfect learning environment.