Anirudh Sharma
PhD in Ion mobility and Mass Spectrometry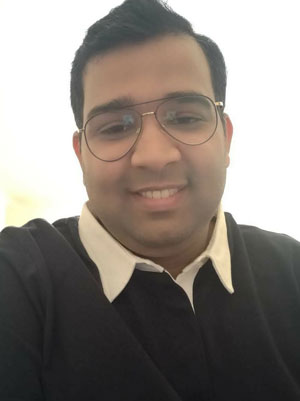 Why Teesside?
The UK is a pioneer in the field of science and is continuously contributing to scientific development throughout the world, most recently with the Oxford-AstraZeneca Covid-19 vaccine. I was hopeful that I'd be able to contribute to scientific research through my PhD.

I came to Teesside because I received a research doctoral studentship that is fully funded by the University. This includes a monthly stipend and my annual tuition fee paid. I chose Teesside as the equipment is impressive, especially the novel ion mobility-mass spectrometer on which my research is based.

What skills have you gained?
My skills have improved a lot since starting my PhD. My time management and IT skills have improved, and most importantly my project management skills. Teesside provides excellent opportunities; I was able to attend the American Society for Mass Spectrometry conference 2020. The lab I work in I am able to use new equipment and technology before it is available in the market.

What do you think about the campus and the services?
The campus is vibrant and there are a lot of options for you when you don't have lectures, like the Students' Union. It is a great place to relax with friends and get a bite to eat and they also have a great support system as well. The Library is very spacious and open seven days a week which is very convenient when you have a busy schedule. Student Life is great as it's equipped with group and single study space, and delicious food. The National Horizons Centre at the Darlington campus is excellent with industry-standard equipment

What about Middlesbrough and the surrounding area?
You won't find a town with friendlier people than Middlesbrough. The local community is there for you and you feel at home wherever you are. It's not as busy as the big cities like London and Manchester, but you'll still find everything you need just a quick walk from campus.

Any advice for students thinking of coming to Teesside?
As a research student take advantage of the help that's available to you. The support from the Library and Student Life is great, I have asked for help with finding specific journal articles, research techniques and essay writing.

What's next?
I am focussing on my lab work and literature review at the moment and I hope to present my work at the American Society for Mass Spectrometry Conference 2021.