Teesside University graduate meets Prime Minister
An inspirational Teesside University graduate who is returning to the University later this week got the opportunity to tell the Prime Minister Theresa May how studying at Teesside helped shape her career.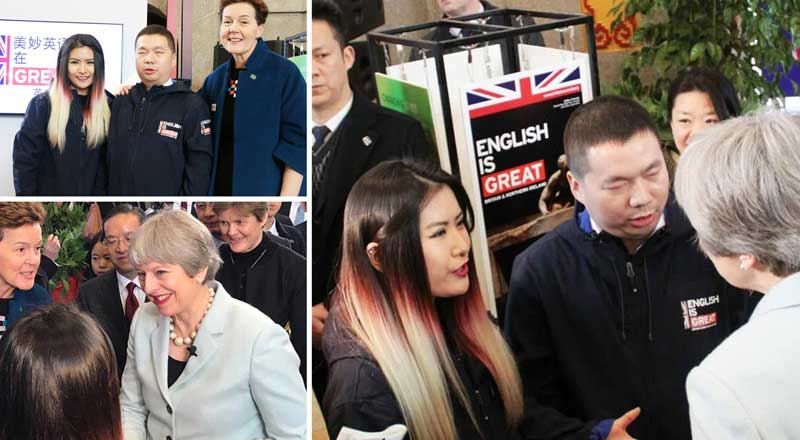 Zhao Jing, also known as Coco, was one of just two representatives of UK alumni to meet the Prime Minister when she was visiting Wuhan as part of a three day trip to China.
The event was organised by the British Council and British Embassy and Zhao Jing was able to briefly talk to the Prime Minister about where she studied and how her career has developed.
Later this week Zhao Jing is returning to Teesside University with a delegation from the British Council and representatives from the Chinese press to tour the facilities and look back on her time as a student.
Zhao Jing graduated from Teesside University with BA (Hons) Television and Film Production in 2015.
During her time at the University, she won the Royal Television Society Undergraduate Factual award for her film 'Eat then Wait for the Night.'
The film explored themes of loneliness, connections between people and the importance of family in China. It was filmed on location in China in the setting of Chinese New Year.
Since graduating Zhao Jing has worked as a freelance producer, producing more than 20 programmes which have been broadcast to audiences in more than 150 countries through channels such as the BBC, UKTV, CCTV, Discovery Channel and National Geographic Channel.
She won the prestigious Spirit of Youth Award in the Study UK Alumni Awards, which received entries from international UK alumni from 123 different countries.
Dr David Bell, Pro Vice-Chancellor (International), at Teesside University, said: 'We are delighted with everything Zhao Jing has achieved. She has successfully developed the skills and knowledge she gained while studying at Teesside to go on to forge a successful career.'
---
---