News
Open day visit helped Emma to change career direction
Visiting Teesside University during an open day helped to set Emma Peacock on a new career path.
More information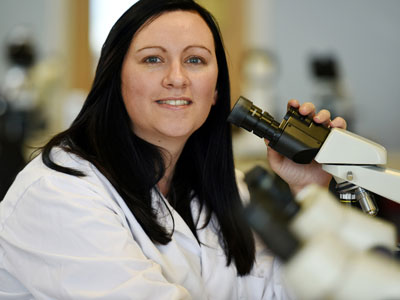 Having previously worked in engineering, Emma took a career break to raise her three children. Once she was ready to return to work, Teesside University helped her to change direction.

Emma, 34, from Redcar, who graduated from the BSc (Hons) Forensic Science earlier this year, said: 'I looked at all the forensic courses across the North East and came in to talk to an advisor at Teesside University.

'I liked the sound of the modules and felt very welcomed. I also attended an open day, which was what finally made up my mind, meeting the staff and seeing the facilities.'

To find out more about what Teesside University has to offer, visit the campus during our open day on Saturday 19 November.

Emma added: 'I had a very positive experience as a mature student. I was 30 when I started and I thought I might struggle to develop relationships with the younger students, but that couldn't be further from the truth as I have made some lasting friendships.

'My overall experience of Teesside was extremely positive. The organisation and content of my course was outstanding and the staff were fantastic.

'My course has helped me to gain the scientific knowledge to succeed in science and there are lots of brilliant schemes to develop personal skills, such as volunteering through Volun-tees or as a student researcher.'

Visiting the University on an open day provides an opportunity to meet staff and students and access information about courses, accommodation and facilities.






16 November 2016
In the News
Open day visit helped Emma to change career direction
Public (web), 10/11/2016
Teesside University Open day visit helped Emma Peacock to change career direction.