News
Teesside graduate's Apprentice task is out of this world
A Teesside University graduate has demonstrated his digital expertise on a flagship BBC show.
More information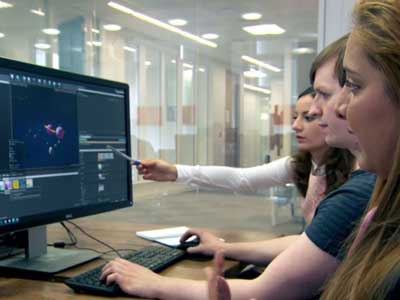 Ross Beardsall helps candidates on the BBC's The Apprentice
---
Ross Beardsall made an appearance on The Apprentice where he had to create a virtual reality game for one of the teams.

In this week's challenge candidates were tasked with creating a new virtual reality game before pitching it to a huge audience of gaming enthusiasts at the world-famous Comic Con exhibition.

Ross worked with team Nebula and helped them create the space exploration game Gordon's Lost his Badger.

Players were required to explore space in a virtual reality setting, avoiding various pitfalls as they searched for the missing badger.

The game swept team Nebula to victory with five out of seven digital experts expressing interest in the game and 222 votes cast in their favour.

Ross, who graduated from the School of Computing at Teesside University with a first class degree in Computer Games Art, also received plenty of plaudits online for the speed in which he created the game.

Jo Noble, Principal Lecturer in the School of Computing, said: 'Our graduates have gone on to work at some of the country's leading companies and it is fantastic to see Ross showcase his skills to a national audience.

'Virtual Reality is a rapidly developing aspect of the gaming industry and an area that the School of Computing excels in. Ross did an amazing job to work to the brief and create the game in such a short space of time.'

If you missed Ross, The Apprentice is available to view on the BBC i-Player and is repeated on BBC Two on 7 December.

01 December 2016