News
Films by Teesside graduates showcased on Channel 4 website
Two creative Teesside University graduates have produced work for a Channel 4 showcase of original short films.
More information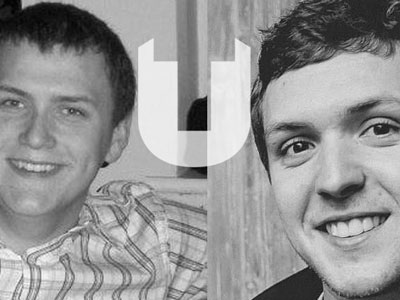 From left, Billy Floyd and Jack Staveley
---
Jack Staveley and Billy Floyd were invited to create work for Random Acts, which features films made after ideas are submitted by filmmakers from across the industry. Both of their short films feature on Channel 4's Random Acts website.

After graduating from the BA (Hons) Television and Film Production in 2013, Jack became a camera trainee with the BBC Football League Show. He is currently based in Manchester where he works as a digital technician with the BBC.

Jack, 24, who is originally from Rotherham, said: 'I chose Teesside University because of the vast amount of facilities and production equipment available and also as there were so many mentors who were able to pass on their industry knowledge.'

He was invited to get involved in Random Acts after submitting his ideas. He added: 'I took part in an intensive four-day boot camp where we refined our ideas into what you see on screen. We had full creative control over everything, from casting and set design to script.

'Being involved in Random Acts has helped in getting experience in all the finer details, such as location agreements and actors fees. It has really helped to simplify the process, which was fantastic.'

He added: 'It was a brilliant opportunity to realise an idea into, what is for many filmmakers, their first funded short film. It can open so many more opportunities in the future too.'

Billy, 25, is originally from Hull and works as a website designer in Darlington. He graduated from the BA (Hons) Broadcast Media Production in 2015.

He said: 'I chose to study at Teesside University as I'm a big fan of Middlesbrough. It's nice to live in a place with real people. After graduating I completed a DigitalCity Fellowship and learned a lot.'

Billy became involved in Channel 4's Random Acts after putting together a pitch, which he credits DigitalCity for helping him to nurture that skill.

Work by Jack and Billy has also been recently exhibited at the Institute of Contemporary Arts in London.

Martin Pout, Associate Dean (Recruitment and Marketing) in the University's School of Design, Culture & the Arts, said: 'It is a wonderful achievement by two of our graduates. Many of our academic staff have industry background and our students can take advantage of our industry-standard production facilities to ensure they develop the essential skills, knowledge and confidence to pursue a media career.'

Jack Staveley's film


Billy Floyd's film



29 March 2017
In the News
Films by Teesside graduates showcased on Channel 4 website
Love Middlesbrough, 29/03/2017; North East Connected, 29/03/2017
Two creative Teesside University graduates, Jack Staveley and Billy Floyd have produced work for a Channel 4 showcase of original short films.