News
Degree set Lucy on course for career
Studying at Teesside University led Lucy Fox to a career with a business specialising in automation and custom robotics.
More information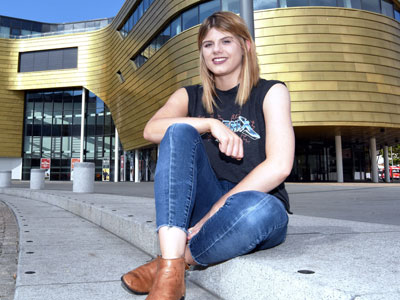 Lucy Fox
---
Lucy, 23, from Eaglescliffe, is a robotics technician with Seamer technology company Labman Automation. Labman manufacture custom robotic and automated solutions for industrial, laboratory and medical applications for customers worldwide.

The BSc (Hons) Forensic Science graduate said: 'The business is involved in creating robotics for automation which I found really intriguing, so I approached them to find out more, which eventually led to me being offered a job.

'They automate processes for laboratories, which I spent a lot of time in during my degree studies.'

Lucy, who chose to study at Teesside after visiting the University campus, added: 'After attending an Open Day I knew I didn't want to go anywhere else.

'I was impressed with the labs, crime scene house and the mock courtroom, facilities which all relate to my course. The course is also accredited by the Chartered Society of Forensic Sciences, which is an added bonus.

'I absolutely loved my time at Teesside, I really enjoyed my course. I loved being in the labs and particularly the chemistry side of the course. Our lecturers also set up some really cool activities alongside lectures, such a fire demonstration where a contained room was set alight.

'We also visited mima to take part in workshops in the art gallery, which was really interesting as we learned about techniques used by paint restorers which are basically the same techniques used by forensic scientists.'

Lucy added: 'Although the job I'm going into isn't as a forensic scientist, a lot of the skills I've developed through the course will be extremely helpful in the future.

'During the final year of the degree we completed an employment skills module which really helped, as it provided insight into what employers look for. We also had a mock interview, which really helped me prepare for my job interview which I had the following week.'

During her degree Lucy was also a student ambassador, a role which involved working at University events such as Open Days and taking part in events with schools from across the region.

She said: 'Working as a student ambassador involved motivational events, workshops and placements, which were fun and a great experience.'


19 July 2017
In the News
Providing human touch at robotics firm
Northern Echo, 19/07/2017
Studying at Teesside University led Lucy Fox to a career with a business specialising in automation and custom robotics.