Digital Fellowships help launch 15 new business start-ups
A North East business success story will be unveiled during an open day being organised by Teesside University's Institute of Digital Innovation (IDI).
More information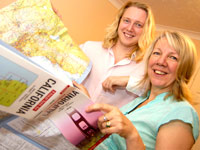 Dr Andrew Dean, left, and his mother Sylvia Dean who have launched their own business, Nano Agrochemicals.
---
The open day is next Thursday (September 10, from 3.00-7.00pm). In the last three months, the IDI – part of Teesside's DigitalCity initiative – has supported the start-up of 15 new companies through its Digital Fellowship scheme.

The Fellowships enable digital media or technology specialists from the region to make their ideas a business reality through the use of world class facilities, mentoring support and funding.

Among the exciting new enterprises is a science-based company, Nano AgroChemicals, being launched by Dr Andrew Dean and his mother and fellow Teesside University graduate Sylvia Dean.

Over the past six months they have been working with the IDI, and using computerised design packages to develop a new product range of nanoparticle agrochemicals which they believe will prove more effective in protecting crops in the future.

'We are looking using nanotechnology to develop products which can offer better crop protection from a wide range of pathogens and soil contaminants and enhance the health and well-being of crops through improved nutrient and trace mineral uptake.

'Working with the IDI has been a huge benefit
'Working with the IDI has been a huge benefit to the project and has enabled us to design optimal synthesis mechanisms that we believe will significantly increase the activity of these products and cut down laboratory testing times and costs,' explained Andrew.

The new company is planning to work with researchers in California, the state responsible for 40% of food production in United States. 'California is facing a series of problems beyond water shortages as it has huge farms and has been using so many chemicals to increase food production that insects and are becoming resistant to normal insecticides.'

Andrew's PhD at Teesside looked at sensors to detect DNA and followed a master's degree in biotechnology. After graduating, he set up his first company, Spartan Nano, with Sylvia, which won the Tees Valley heat of Blueprint business award and has been shortlisted for the regional finals in Gateshead this October.

Dr Jim TerKeurst, the IDI's director, said: 'It has been an incredible few months for the IDI. We've supported the start-up of 15 new digital companies and it's clear that this region has the talent, skills and enterprise to succeed on the national and international stage and the IDI is honoured to being playing it part in building our digital future.'

The latest 15 new enterprises being launched bring the total number of new start-ups helped by the IDI to 59, covering everything from nanotechnology for agricultural applications, digital media and games, e-security and science and healthcare applications.

The IDI is in the new Phoenix Building, behind the Evening Gazette offices, entrance off Stephenson Street, Middlesbrough. For more information about the open day contact Christine Wilson.
E: c.e.wilson@idi-uk.org
T: 01642 738069.

04 September 2009
In the News
A digital design for life
Newcastle Herald & Post (Web), 03/11/2009
The article makes reference to the fact that Nano Agrochemicals' Andrew and Sylvia Dean presented their idea for a solution that would help protect crops to Teesside University's Institute of Digital
---
Bug busters get a digital helping hand
Northern Echo (Web), 14/09/2009
Forming part of the DigitalCity initiative, the Institute of Digital Innovation at Teesside University is currently giving its support to the start-up of fifteen new companies.
---
Mother and son to take nanotechnology to the US
The Journal (Newcastle Upon Tyne), 10/09/2009, p.27
Mother and son Sylvia and Dr Andrew Dean, both Teesside University graduates, are launching their own business in Teesside. Nano AgricoChemicals will use nanotechnology to protect crops from disease-c
---
Bug busters get a digital helping hand
Northern Echo (North Edition), 14/09/2009, p.26
A company that worked with researchers in California with the agenda of eliminating farm bugs immune to insecticides is recommending new businesses to use a facility at Teesside University's Institute