News releases
An illuminating idea to save energy
Teesside University graduate Colin Tonks helped to create a green way to light up London's riverbank during the festive season.
More information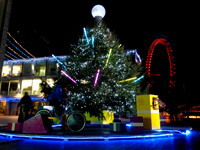 Colin has been instrumental in the creation of two pedal-powered Christmas trees taking pride of place on the banks of the River Thames. The illuminated trees have been one of the highlights of London's Southbank Centre's winter festival.

Electric Pedals, which Colin helped to found, is behind the trees which comprise more than 1km of lights powered solely by 10 pairs of pedals – with five people needed on each tree to continually pedal to keep the lights illuminated.

Colin, who graduated from Teesside with a first class BSc (Hons) Software Engineering in 1996, is originally from Telford in Shropshire. He didn't take the traditional route into education, initially coming to Teesside as a mature student.

He said: 'I initially completed a HND and then transferred to the degree. Teesside is now my home from home and I loved my time studying there. I had a really great experience and it set me on the path to a successful career.'

After graduating, Colin went on to work in energy trading which for a time took him to America, before he returned to England in 2001.

He added: 'I then got involved in the BBC television show Bang Goes The Theory, which featured a human power station, with a family living in a house powered by cyclists. Things really took off from there.'

The Southbank Centre approached Electric Pedals after seeing a tree they had created with vInspired, a charity dedicated to getting young people to volunteer for good causes.

Colin said: 'The idea behind the pedal-powered Christmas tree is, rather than consume at Christmas, think about giving back a little.

'If the human power station stops pedalling, then the lights don't illuminate. In order to allow for maximum accessibility we included two BMX bikes for children and two hand-bikes for those unable to pedal a conventional cycle.'

He added: 'We have been blown away by the public's response, with times when there hasn't been a bike free. And when people aren't around to take part, the lights aren't lit and power isn't going to waste.'

More information about Electric Pedals

21 December 2012
In the News
Pedal-power shines glory all around
Northern Echo, 01/01/2013, p.23; Darlington & Stockton Times (Web), 01/01/2013; Northern Echo (Web), 01/01/2013
A Teesside University graduate is behind the pedal-powered Christmas trees at the heart of a major London festival. Colin Tonks helped to create the illuminated Christmas trees which have had pride of place on the banks of the River Thames throughout the Southbank Centre's winter festival.