Historian's appeal to help with voyage of discovery
A Teesside University historian and academic is embarking on a voyage to piece together a missing part of a famed warship's past.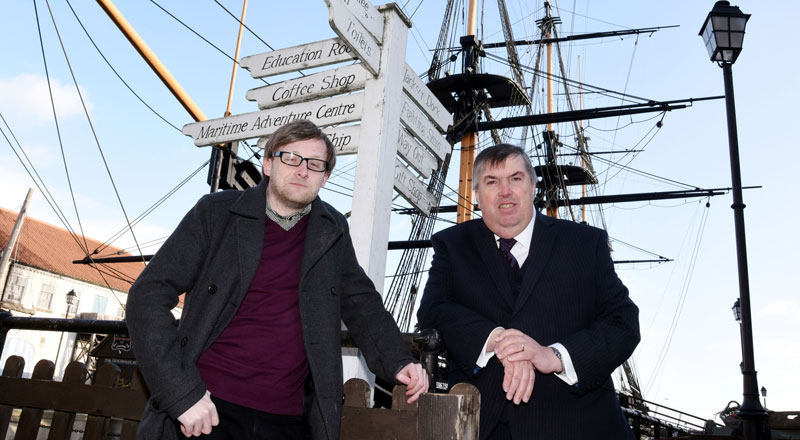 Dr Ben Roberts is researching a specific period in the life of sailing frigate HMS Trincomalee, which is restored as a museum ship in Hartlepool. Built in Bombay in 1817, she is the world's oldest warship afloat, with her bicentenary next year.
Ben is focusing on the time between the early 1900s and the mid-1980s when HMS Trincomalee operated as Training Ship Foudroyant. He hopes to trace trainees who were sent from across the country to spend time on the vessel, which at that time was berthed in Portsmouth and other southern ports.
He said: 'While we know much about the ship's early days and also its restoration, as it was carried out locally, we know little about the people who spent time as trainees on her during the ninety year period when she was known as Training Ship Foudroyant.'
Ben has painstakingly gathered factual archive information about the ship, but is now hoping to speak to anyone who has personal memories, or stories passed down from relatives of those who spent time on TS Foudroyant.
He said: 'We have information from ships logs and other archival details, but I now need people to tell their stories to bring the information from the archives to life.
'There will be so many stories from that time as people from across the country spent time on the training ship for many different reasons, but there is little record in existence of how they felt during and after the training was complete.
'Was the sea training fun, or was the emphasis on discipline and education? What were conditions like on board? Was the experience beneficial?'
Ben added: 'The trainees came to the ship from diverse backgrounds, from Eton students to London youths sent as a treat and bit of respite from the post-war inner city poverty. Many people will have links from her use by the Royal Navy as a store ship during the war, when naval personnel were based on her. There are so many layers to the ship's story.
'Their stories will provide a missing piece of the ship's history. There are many photographs from that time too, but no names to go with them.'
Industrialist Geoffrey Wheatley Cobb bought Trincomalee in 1897 after she had been sold for breaking up. He converted the ship for training use and renamed Foudroyant in tribute to his own ship which had been wrecked that same year.
The vessel went on to be used as a training ship with accommodation in Falmouth, Milford Haven and Portsmouth, remaining in service until 1986, when she was restored and reverted to her original name Trincomalee in 1992 having moved to hercurrent base at Hartlepool Historic Quay.
Ben, who is part of the University's Centre for Regional and Local Historical Research, is conducting his research conjunction with the HMS Trincomalee Trust in Hartlepool.
David McKnight, General Manager of HMS Trincomalee, said: 'We're hoping Ben's research will help to fill in some of the gaps relating to the ship's history. We get many visitors who can recall stories about training on board and our aim is to capture that knowledge and gather the many stories from people across the country with connections to HMS Trincomalee during her time as Foudroyant.'
Ben can be contacted on ben.roberts@tees.ac.uk or by writing to Dr Ben Roberts, Teesside University, School of Arts and Media, Borough Road, Middlesbrough, TS1 3BA.
More information about HMS Trincomalee. Call 01429 223 193 or email visit@hms-trincomalee.co.uk.
---
In the News
Research to fill in historic warship's timeline
Northern Echo online, 06/03/2016; Northern Echo, 07/03/2016:Love Middlesbrough 08/03/2016; BBC Earth Web 11.03.16; Darlington & Stockton Times 11.03.16;
Dr Ben Roberts, of Teesside University, with David McKnight, General Manager of HMS Trincomalee A HISTORIAN is looking to piece together the missing parts of one of the oldest floating warships in the