News
International sporting glory for Teesside academic
A Teesside University academic has scooped a silver medal at the World Transplant Games.
More information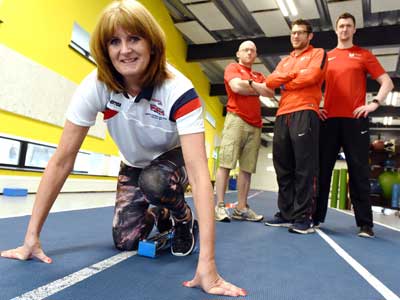 Dr Gill Owens.
---
Dr Gill Owens, a Senior Lecturer in Leadership and Management, competed in the event in Malaga after altruistically donating a kidney to a complete stranger in March 2015.

This was the first year donors have been allowed to compete in the World Transplant Games and Gill managed to win a silver in the 100m sprint.

Gill, who is an ambassador and trustee of the Give a Kidney Foundation, was part of the 250-strong GB team in Spain. She received exercise, training and dietary support from experts at the University before heading off to the Games.

She said: 'Taking part is a chance to promote the cause of both organ donation and transplant sport to help demonstrate that you can enjoy a perfectly fit, healthy and active life after either donating or receiving a kidney.'

Gill came second to another competitor who had donated bone marrow to her twin sister.

She added: 'I may not have got gold, but I'm certainly now the fastest altruistic female donor on the planet.'

03 July 2017
In the News
Teesside University lecturer wins silver at Transplant Games
ITV,com, 03/07/2017; ITV.com (web) 08/07/2017;
Dr Gill Owens has won silver at the Transplant Games.
---
BBC Radio Tees, Mike Parr
BBC Radio Tees, 04/07/2017
Gill Owens talks about winning silver at the World Transplant Games.