News
Students rewarded for entrepreneurial spirit
A group of enterprising Teesside University students have used their passion for books and creative writing to raise awareness about cultural diversity.
More information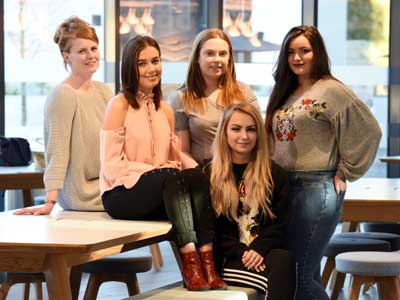 Rebecca Davis, Ellie Wake, Charlotte Young, Paige Cummings and Sarah Bone.
---
The five BA (Hons) English Studies students have also been chosen to receive an additional entrepreneurial qualification for their work which aimed to combat the rise in hate crimes post-Brexit.

They were tasked with planning a public event as part of a final year module combining English and Employability, supporting the University's drive to embed entrepreneurship within its academic programmes.

The students came up with the idea for a food and book festival entitled 'Don't Judge a Book by its Cover' which was designed to promote cultural understanding in light of the rise in hate crimes following Brexit.

The idea was for people from different cultures and backgrounds to sample food from around the world, while also discovering and talking about literature from different countries. The students had to plan the event, present it to a panel and come up with marketing and budget strategies.

Sarah Bone, 20, Paige Cummings, 20, Rebecca Davis, 27, Ellie Wake, 20 and Charlotte Young 21, were commended for their work and are set to receive University Certificates for Entrepreneurial Endeavour, which they will be able to showcase as an additional qualification alongside their degrees when they graduate.

'A high percentage of people in this region did vote to leave the European Union and we feel that there is a lot of misleading and inaccurate information out there,' explained Sarah.

'Watching the news and researching the topic, there has been a rise in hate crimes since Brexit and a lot of that comes down to people being misinformed.

'With this project, we wanted to plan an event to bring people together to explore different cultures, but without being too obvious about it. The idea was for people to sample food and literature from around the world and to almost educate them subconsciously.'

Ellie added: 'It is fantastic to be involved in a project such as this and to receive the additional entrepreneurial qualification will be hugely beneficial when we leave University.'

Rebecca said that exploring entrepreneurial activity was not something she had thought about before but this project has broadened her horizons.

She added: 'It was a great opportunity and it makes you think about all the different avenues you can pursue during university.'

Rachel Carroll, Reader in Teesside University's School of Social Sciences, Humanities & Law, said: 'Entrepreneurship is something we are embedding in courses across the University, giving students the opportunity to showcase their entrepreneurial talents.

'The five students showed tremendous commitment and creativity to plan and pitch an event that they are extremely passionate about.

'The University Certificates for Entrepreneurial Endeavour are testament to their hard work and will serve them well when entering the job market.'

01 December 2017
In the News
Working to keep our region in good health
Evening Gazette (Teesside) 05/12/2017:Evening Gazette (Teesside), 05/12/2017:
Linda Nelson TEESSIDE University's role as an anchor institution for the region extends beyond its economic input - it's also carrying out vital work to keep the Tees Valley in good health.