News
Working together to highlight risk of drinking while pregnant
A Teesside University academic has teamed up with a local public health team to write a powerful new play, warning young people about the dangers of alcohol consumption during pregnancy.
More information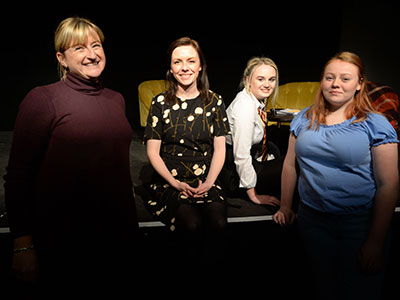 Fiona Helyer, Dr Sarah O'Brien, Beth Moore and Amy O'Leary (L-R)
---
Dr Sarah O'Brien, Principal Lecturer (Programmes) and Programme Leader for BA (Hons) Performance for Live and Recorded Media at Teesside University, was approached by Fiona Helyer, Public Health Officer at Middlesbrough Borough Council, to help raise awareness of foetal alcohol spectrum disorders (FASD) as part of alcohol awareness week.

The project, which was part funded by Thirteen Group, aimed to show how engrained drinking culture is in our everyday lives and challenge common misconceptions around so-called 'safe' levels of alcohol consumption.

Knowing only a limited amount about FASD, Dr O'Brien thoroughly researched the spectrum of disorders and put together a synopsis for a play, 'Do as I do, my love'. She presented the synopsis to her final-year performance students at the University who then auditioned for parts within the play.

The project culminated in two live performances of Dr O'Brien's play in the newly refurbished Middlesbrough Town Hall crypt in front of an audience of more than 300 children from six local secondary schools.

The play centres around protagonist Jess, a teenage school girl played by Beth Moore, who lives with her mum, her mum's partner, her step brother, and brother who has FASD. The audience sees Jess from the age of seven to 15 and how she deals with the trials and tribulations of living with a sibling who has FASD, and also the issues around the blended family dynamic.

Dr O'Brien, who has been teaching acting and performance in Higher Education for over 16 years, said: 'The students have done a fantastic job researching the issues and developing the play. It was very important that they researched their characters to make the people real and relatable for the audience.

'It is not a case of pointing blame or persecuting the mother, instead we show how this situation is more complex and involves the culture surrounding alcohol itself. Through the play we see the mother figure actively changing the future by helping her own child to not do the same as she did.'

Fiona has previously worked closely with Teesside University's Sport and Wellbeing department around alcohol awareness week. This November, the theme for alcohol awareness week was around 'change' and Fiona wanted to produce something around changing attitudes towards alcohol starting with the younger generation.

Fiona said: 'There are a lot of mixed messages about how much alcohol is 'safe' during pregnancy. It is important to raise awareness of the health effects that alcohol can have on children and adults, especially during pregnancy. Getting this important health awareness message across to young people in an informative and interactive way has helped to stimulate conversation and will help them to make more informed decisions about alcohol when they come to adolescence.'

Councillor Julia Rostron, Middlesbrough Council's Executive member for Adult Social Care and Public Health, said: 'Alcohol continues to have a huge impact on children and young people, but the harms it causes are completely preventable.

'It's essential that parents-to-be are aware of the dangers of drinking alcohol during pregnancy, and this powerful work has done a great deal to raise awareness of such an important message.'

Dr O'Brien added: 'People don't often realise that there is a whole spectrum of disorders associated with drinking during pregnancy, and many have not even heard of FASD. The truth is that there is no known safe amount of alcohol to drink, and that is the message we wanted to get across.

'What people don't understand is that alcohol is a teratogen, which means that it disturbs the development of an embryo or foetus. It was only in January 2016 that government guidelines came into force which made it clear that drinking alcohol in pregnancy is risky. Alcohol is engrained within many people's day-to-day lives and for years many thought that it posed no risk to drink during pregnancy.

'Through the production, we wanted to raise awareness among children so they can make informed decisions, but we also wanted to be able to feed the message back into the family units through the children.'

After the production the audience had the opportunity to ask the cast questions about the performance. The audience was also asked questions about the important, and sometimes hard-hitting, messages the production had raised.



28 November 2018
In the News
Play aims to raise awareness of pregnancy drinking
Darlington and Stockton Times, p.12, 7/12/2018
A powerful new play is warning young people about the dangers of drinking alcohol through pregnancy.
---
Academic's play warned of dangers of pregnancy drinking
Northern Echo, online, 28/11/18, Northern Echo, p7, 28/11/18, North East Chamber of Commerce, online, 28/11/18
Dr Sarah O'Brien teamed up with a public health team to write a powerful new play warning young people about the dangers of drinking alcohol through pregnancy.