Teesside University Students & Staff can access PressReader for free
PressReader has over 7000 newspapers and magazines from over 100 countries in 60 different languages. UK Broadsheet and Tabloid newspapers including The Guardian, The Daily Telegraph, The Independent and Daily Mail plus many more.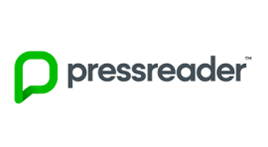 Issues of magazines and newspapers appear as they would do in print as soon as they are published. Contains full text of issues published in the last 365 days for most of the titles that are available (NB. The Guardian is available for 2 weeks)
You can access and read publications without registering for an account by choosing PressReader from the Databases link on the Library website homepage. Use the link below for more information and how to access.
To have more features and personalization you will need to register for a PressReader account. To register;
- click on the Sign In option, in the top right hand corner of the screen
- choose New user? sign up now then enter your details as requested on screen
- choose your email communication preferences and create your account
You can select your favourite publications and can set up email alerts when a new issue of your favourite publication has been released.
Categories included
Animals & Pets, Art, Automotive, Boating & Aviation, Business & Current Affairs, Computers & Technology, Crafts & Hobbies, Design, Entertainment & TV, Fashion, Food & Drinks, Gaming, Health & Fitness, History & Science, Home & Gardent, LGBTQ, Music, News, Outdoors, Photography, Religion & Spirituality, Sports, Travel & Culture
---