Art provides an alternative to army life
An army veteran who enrolled on an art degree course at Teesside University to help him deal with the pressures of civilian life is using his work to provide support to fellow ex-service personnel.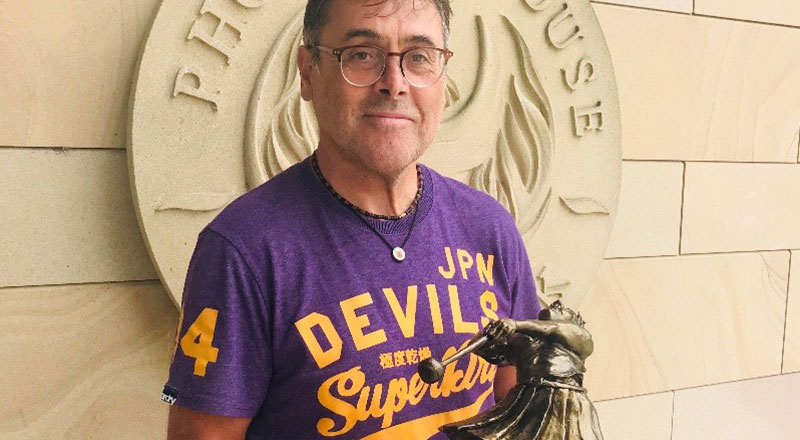 And, the change of direction has also led Paul Cappleman to show his work to His Royal Highness Prince Charles.
Paul spent over 23 year serving with the Royal Corps of Signals but has since struggled with depression and a range of medical issues, including nerve damage and a shoulder injury.
To help him cope and to pass the time Paul started to volunteer at Help for Heroes in Catterick Garrison, supporting fellow veterans within the art room.
It was there where he was encouraged to pursue his love for art and he enrolled on the BA (Hons) Fine Art degree at Teesside University's MIMA School of Art & Design.
He is now thriving on the course and has been involved in several projects which link in with his military background. One of those was making the trophy for the Mey Highland Games, an annual event celebrating the sportsmanship, culture, heritage and produce of the far north Highlands.
Paul, 56, used epoxy risen to craft a Scottish hammer thrower with a prosthetic leg. The trophy was given to Prince Charles, who serves as the Chieftain of the Mey Highland Games and he presented it to the winning team.
I love the freedom it gives me and the different types of work I am able to get involved in.
'It was a great privilege to work on this project and His Royal Highness did seem pleased with the trophy,' explained Paul.
'I am really enjoying the course at Teesside University and it is helping me in so many ways. I love the freedom it gives me and the different types of work I am able to get involved in.
'It is great to be able to learn new ideas and I am using that to support veterans at Help for Heroes.'
Paul has also been involved in a project with Help for Heroes, the Yorvik Centre and the York Archaeological Trust. The Yorvik Centre is making a half size Viking ship and used the art room at Help for Heroes for two information days where Paul and fellow veterans made paintings, art work and poetry to be used at the formal launch of the ship.
Paul added: 'I only really took up art in 2016 but it has given me so many new opportunities.
'It is helping me on a personal and professional level and the degree course at Teesside Uni has been a breath of fresh air. I hope to progress on to a master's course in the future and continue to use my art work as a force for good.'
---
Course details
---