Placement students working with G2O Water Technologies
G20 Water Technologies has welcomed three Teesside University students to work with them on placements.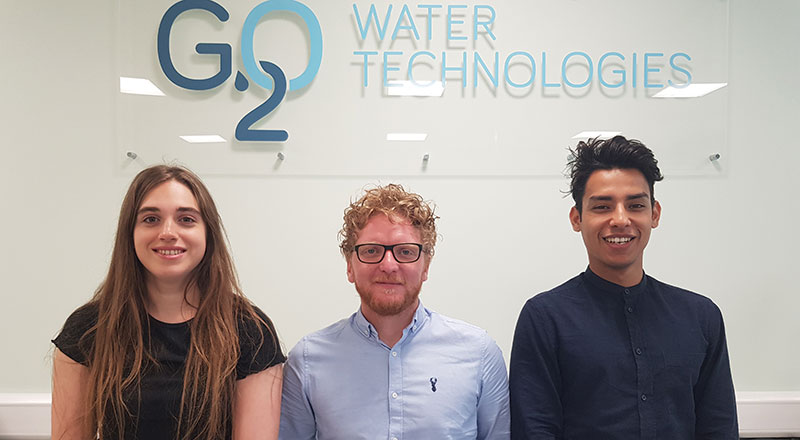 The students - BEng (Hons) Chemical Engineering with Industry student Michael Cardoso Coca, and BSc (Hons) Environmental Science with Professional Experience students Helena Driffil-Agar and Mark Parker – were able to take up the opportunity to work in industry during their third year of studying.
Teesside University worked with G2O to match students with the specialist skills to meet the requirements of G2O, the leading developer of graphene oxide membrane coatings designed to reduce the cost of water filtration.
Craig Clement, COO at G20, said: 'We were so impressed with the quality of the students that we decided to employ three. We are a relatively small company and highly innovative company and are able to offer the students a real world R&D experience.'
The students joined G2O during the summer with a view to returning to Teesside University in September 2020.
Helena, who is completing her placement working as a technician, said: 'This placement is a fantastic opportunity for me to enhance my knowledge within water treatment and gain crucial experience within a professional environment. I enjoy being able to bring the skills and knowledge I have gained so far at university to the business and I look forward to continuing this over the next year.'
The students have settled in really well and have added value to our business straight away
Michael, who is working as a market analyst, said: 'This placement has shown me how valuable it is to know the market you work for and how to quickly adapt to changes in a professional manner. I enjoy being challenged so I can use the skills learned at university to overcome and solve problems presented to me, I am very excited for the year ahead with G2O and hope to add value to the business.'
Andrew Wragg, CEO at G20, added: 'The students have settled in really well and have added value to our business straight away. It has enabled our research scientists to broaden their roles and has given them management experience. We look forward to continuing to develop our relationship with Teesside University.'
Jenyfer Owen, lead work experience officer at Teesside University, said: 'We are thrilled that G2O are able to offer this opportunity to three of our students. This will give them invaluable experience of applying their academic knowledge within a practical working environment. I look forward to hearing all about their experiences and working with G2O in the future.'
---