Free digital skills training for people in County Durham
A new project being offered by Teesside University is enabling employed people in County Durham to learn vital new digital skills - at no cost to themselves.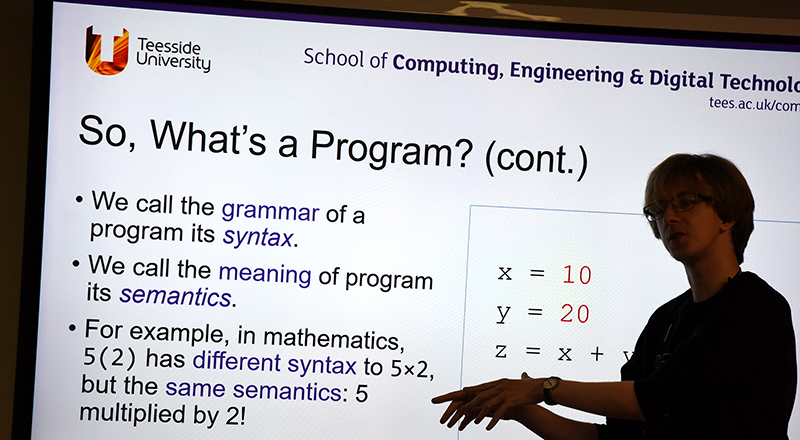 The Digital Skills for Growth programme is part-funded by the European Social Fund. Delivered by the University's School of Computing, Engineering and Digital Technologies, it works with employees from any sector, including teaching and public sector staff, to upgrade their digital capabilities to transform their role, business and career.
Training is provided through taster sessions and short accredited courses, depending upon the needs of the student.
Quarterly digital roadshows are being held for people from different sectors to introduce them to the range of topics covered and ascertain their training needs.
An October roadshow for teaching staff from County Durham saw them try taster sessions in subjects including animation, programming, cyber-security, augmented reality and artificial intelligence.
Another digital roadshow aimed at people working in industry is being held later this month in Newton Aycliffe.
The roadshows provide the perfect platform for individuals to sample digital technology and if they want to learn more, a fully funded short course will be available.
Siobhan Fenton, Associate Dean (Enterprise and Business Engagement) in the School of Computing, Engineering and Digital Technologies, said: 'Digital Skills for Growth offers a fantastic opportunity for people to future-proof their digital skills.
'Because courses are all fully funded, they represent no cost to the student.
'By attending the digital roadshows, people can make sure that the course they sign up for is exactly what they need. We also have a team of ambassadors who will work with learners to support them through every stage.
'Alongside this, we're undertaking focus groups with employees from different sectors to identify what training is most relevant to particular needs.'
Eligibility criteria apply, and to benefit from the programme, people will need to be employed in the Durham region (excluding Darlington).
The industry digital roadshow takes place on Monday, 16 December 2019, at the Work Place, Heighington Lane, Aycliffe Business Park, Newton Aycliffe, DL5 6AH with session from 8.15am to 10.00am and 3.00pm to 6.00pm.
For more information email digitalskillsforgrowth@tees.ac.uk or call 01642 738701.
---