Home ›
STEMulate12 and DESIGN sTUdio12
STEMulate12 and sTUdio12
Our STEMulate12 and sTUdio12 events provide a unique and exciting opportunity for year 12 students to participate in interactive workshops available across science, computing, engineering, media, communications, art and design, and to hear from employers, graduates and current students on careers and the journey from school/college through university to a job. We give guidance on options such as traditional University degrees and apprenticeship routes.
The events are designed to provide advice and guidance to enable students to make informed decisions on the path they wish to follow to achieve their ambitions.
These events are designed for groups from schools and colleges - speak to your teacher or career adviser if you want to get involved. We do consider individual requests if your school or college isn't participating.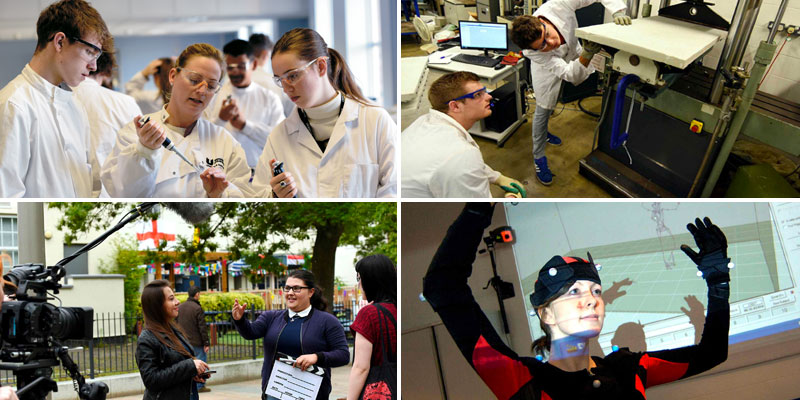 Here's why
---
Here are just some of the extra benefits of coming along.
Enjoy a free lunch – we give you a lunch voucher to use at our Students' Union shop.
Get the chance to win a prize.
Select your date
---
No events are available at the moment. Please contact SDS12@tees.ac.uk for more details.
A typical timetable
---
9.45am: registration
10.20am - 10.40am: welcome and introduction
10.40am - 11.00am: employment opportunities and apprenticeships
11.10am - 12.30pm: academic session one (introduction to relevant theory, practical activities and information on courses and careers)
12.30pm - 1.20pm: lunch (provided by Teesside University)
1.20pm - 1.40pm: student/graduate experience
1.50pm - 3.10pm: academic session two (introduction to relevant theory, practical activities and information on courses and careers)
3.20pm - 3.30pm: plenary
3.30pm: depart
Find out more
---
Students say...
It has been, without exaggeration, the greatest and most interesting experience I've literally ever had in my entire life.
I felt I gained a lot of knowledge and understanding of both university life and some of the subjects I'm interested in. Five star experience.
Book your space
---