A return to education boosted Linda's healthcare career
Hartlepool nurse Linda Robinson went from a domestic to a nurse after returning to education as a Teesside University mature student.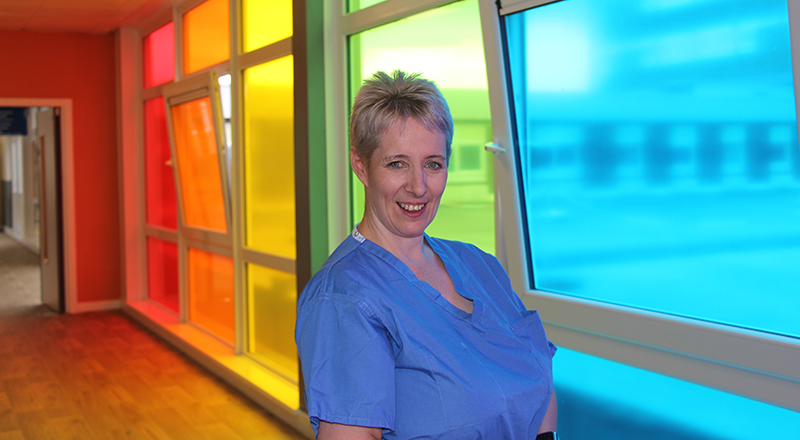 Linda, 53, started working for North Tees and Hartlepool Foundation Trust in 1997 as a theatre domestic while supporting her young family. Her role involved supporting the theatre surgeons, even ensuring they had sandwiches and refreshments during their shifts.
Linda has since worked her way up the career ladder, taking on positions such as a theatre support worker and associate practitioner to enhance her knowledge. She returned to education aged 46, to boost her professional development further.
Linda said: "My dream has always been to be a nurse, but I got married and had my children young, it is now my time to pursue a career in the medical profession.
"At 46 years old I completed my adult nursing degree at Teesside University, something I never thought was possible for me to achieve.
"My husband has been instrumental in my development; he even taught himself my course mathematics to help me learn medicine calculations."
Linda's work is so well respected that she won a Shining Star award following a nomination from a theatre surgeon. Winning the accolade, which the Trust awards to high performing staff on an annual basis, helped her gain confidence to move upwards in her healthcare career.
My dream has always been to be a nurse
"Starting as a domestic and working my way to nursing has taught me the importance of teamwork, that each role plays an important part in the hospital environment", Linda commented.
Now working as a scrub nurse, Linda's primary role is to assist surgeons during operations.
Clinical Director, Anil Agarwal, has worked with Linda since 1997 and watched her professional journey in the Trust.
He said: "To see Linda make her journey from a domestic to theatre support worker, associate practitioner, staff nurse and now a leader is nothing short of an admirable and inspirational story.
"Her story is dedicated to all who believe in themselves and the organisation that they work for."
Linda said: "I am not planning on slowing down soon. The opportunities that the Trust has given me has made me hungry for more.
"I am now taking part in a management development programme outside of my role helping to develop a charity shop at the University Hospital of North Tees.
"The Trust have supported me every step of the way during my career journey and I'm eternally thankful."
---