Lisa Tomlinson is looking forward to continuing her nursing career, even though her plans for a New York trip to celebrate her graduation and wedding had to be put on hold.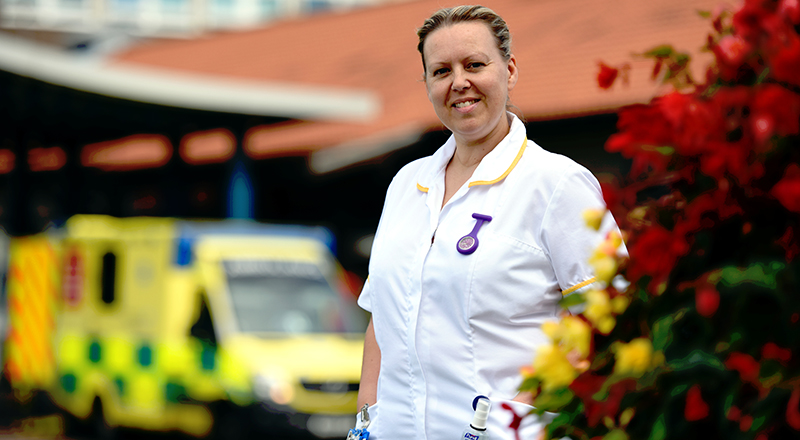 Lisa and partner Colin had been due to get married in April, followed by a summer trip to New York to mark the culmination of her FdSc Nursing Association studies.
As the current lockdown has meant all of those plans are on hold, the couple's wedding will now take place next year and Lisa is hoping to hold a family barbecue later this summer to celebrate the end of her Teesside University studies.
Lisa, a Nursing Associate at North Tees & Hartlepool NHS Trust, works in North Tees hospital's patient clinics within main outpatients, orthopaedic outpatients, lung health and Medical Rehabilitation Day Unit.
She said: 'It was heart-breaking to have to cancel our wedding plans. I was meant to be in New York in June celebrating my degree. I hope some time later this year we can mark our graduation as myself and the other students were looking forward to it.'
Lisa added: 'I chose Teesside University as the Trust I work for were offering staff an opportunity to progress via an apprenticeship. Being a more mature student, I wanted to find a progression route which would enable me to study and also keep a salary.
'The thing I have enjoyed most about the course are the new friends I have made and the opportunity to experience university life, as it's something I would have liked to have done when I was younger. I just wasn't brave enough back then and started full-time work straight from college. University did not occur to me back then.'
Lisa added: 'During the course I have enjoyed moving around the different placements and seeing different departments, which gave me a taste of different types of nursing and has helped me to see where I would like to progress or work.'
During her studies, Lisa received a Teesside Hero Award from Teesside Philanthropic Foundation in recognition of her charity fundraising and campaigning.
Lisa, who was diagnosed with cervical cancer in 2007 aged 31, has raised thousands of pounds for Teesside charities and spent the last decade campaigning for a reduction to the age for women can access cervical screening programmes.
Her cancer returned in 2015 in her appendix. The tumour was removed and she was back at work two weeks later. A scare two years ago saw part of her liver removed, but thankfully tests proved a growth was benign.
Commenting on the award recognition, Lisa said: 'There are so many people who do so many amazing things out there on Teesside, I'm just a little person getting on with my life.'
---