Awards success for Teesside University
Teesside University has won a prestigious environmental award for its innovative new building and has donated the prize money to a local school to inspire a generation of future scientists.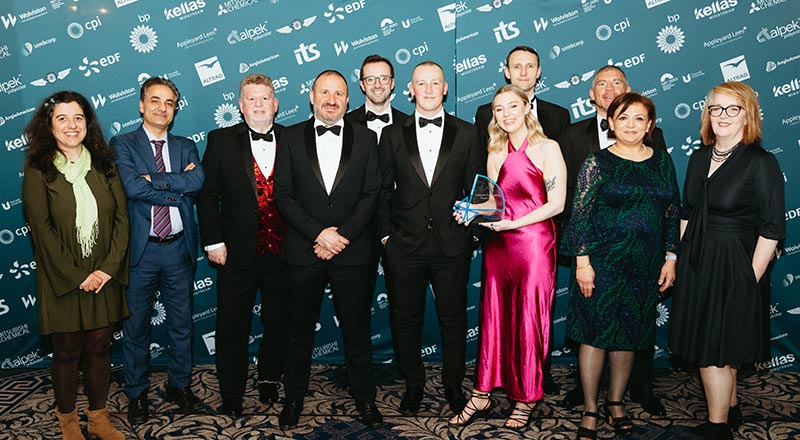 A talented Teesside University student also had her achievements recognised at the NEPIC (North East Process Industry Cluster) Annual Awards.
Teesside University won the Corporate Environmental Award from NEPIC for its Net Zero Industry Innovation Centre (NZIIC) while Amy Summerton, a BEng (Hons) Chemical Engineering students was a winner in the Young Achiever category.
The awards ceremony took place on March 24th where NEPIC, a not-for-profit organisation that supports the needs and interests of the processing sector in the North East of England, presented the winning award of £2,000 to Teesside University in recognition of its work.
The prize money will be donated by Teesside University to Macmillan Academy in Middlesbrough to go towards a science initiative.
Through NZIIC, Teesside University will continue its work to empower industries to develop innovative ways to tackle the climate and energy crisis on a local, national, and international level.
The £13.1m building is set to play a key role in the region, shaping and creating a cleaner and greener future.
The centre is committed to helping businesses achieve their net zero ambitions through pioneering research and state-of-the-art facilities. Fusing links between industry, research facilities and higher education, NZIIC will help super-charge the region's ambition to become the first and largest decarbonised industrial cluster by 2040.
Dr Gari Harris, Director of NZIIC, said: "We are delighted to receive this fantastic recognition for our work.
She assists SABIC's sustainability and carbon neutrality ambitions, supporting the Teesside Improvement Project on the OIefins 6 Cracker which aims to utilise hydrogen as a fuel source and become the world's first carbon neutral cracker.

Amy has also taken on various volunteering roles to share her experience in industry with others and inspire more young people into working in the sector.
"We are looking forward to harnessing our research expertise within NZIIC to deliver clear impact across environmental and business sustainability.
"Teesside University is committed to enthusing and inspiring the next generation, so it is fantastic to be able to donate the winning prize money Macmillan Academy, to help inspire the scientists of the future."
NZIIC is one of the projects in Teesside University's ongoing campus masterplan, which has seen £280m invested to date – including the award-winning Student Life Building, Cornell Quarter student accommodation and the National Horizon's Centre at the University's Darlington Campus.
The Net Zero project has already had a substantial commercial impact in the Tees Valley, having played a pivotal part in winning £4.8m of funding from the Research England Development Fund.
In just 11 months, 15 members of the staff have been recruited to support the delivery of the Net Zero project. Furthermore, the University will be recruiting six new professorial staff and 14 new research associates.
As part of Teesside University's commitment to reaching net zero by 2030, the University has made significant environmental considerations across campus, including a Green Travel Plan, zero commercial waste going to landfills, and setting best practices through sustainability in the curriculum.
Amy, who took home the Young Achiever Award at the event, carries out her studies at Teesside University alongside her role as Research Chemist at chemical manufacturing company SABIC.
---