Creative students volunteer to support centre
Creative Teesside University students shared their skills to help support the Unicorn Centre in Middlesbrough, which provides horse riding for disabled children and adults.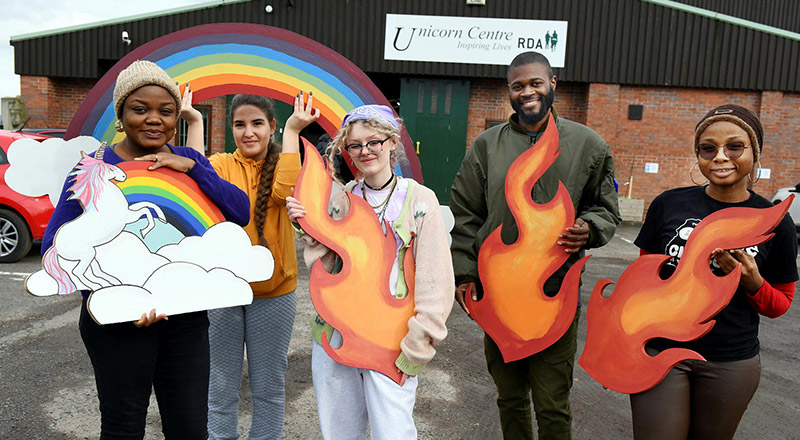 The students have been visiting the Unicorn Centre to help bring to life large wooden unicorn and dragon decorations for the indoor arena ahead of an open day taking place at the centre this Easter. The centre will be offering unicorn pony rides as part of the event.
The students volunteered their time at the Unicorn Centre through the University's Volun-tees scheme, which aims to support students, staff and recent graduates who are seeking to get involved in volunteering in the local community, or through University-led volunteering programmes.
During their time at the centre, the student volunteers were given a guided tour of the facilities.
Pat White, of the Unicorn Centre, said: "The University students gave up their time for three afternoons to paint the scenery, ahead of our Unicorn Day taking place on April 12.
"Before they started painting, they met our horses and ponies and were introduced to Blackberry, our dressage simulator - our only horse that does not need feeding!"
Pat added: "Their challenge was to paint dragons, unicorns, knights in armour, rainbows and castles onto MDF. The scenery is used in our arena and our ponies are dressed up to look like unicorns and work their way round the unicorns and dragon course.
The students did a marvellous job
"The unicorn pony rides are a star feature of our Unicorn Day, alongside craft stalls, tombola and all things unicorn. It is one of the centre's fundraising activities. The students did a marvellous job and stayed longer to ensure all the props for the arena were finished. We have already booked them in for our Christmas event, which is pony rides to Santa."
Taby Neagu, who is studying an MA in Illustration, said: "It was an amazing experience. I got to work with people and be creative. What I liked most is that we looked around the stable and we could meet the ponies. Overall, I think it was great that we could help with their Easter event, while also gain some working experience."
Peter Ogunwale, who is studying an MS in Visual Communication, said: "It was an amazing time at the Unicorn Centre. It was good knowing I was part of a bigger activity that is for positive impact. It also was fantastic to meet new people, see the amazing horses and have a feel of nature."
Angela Wood, of Volun-tees, said: "It was lovely to see the students in a relaxed environment having fun and giving back to the local community".
---