The success of a research and development project by Teesside University spin-out company TeeGene Biotech has been given national recognition by a prestigious funding body.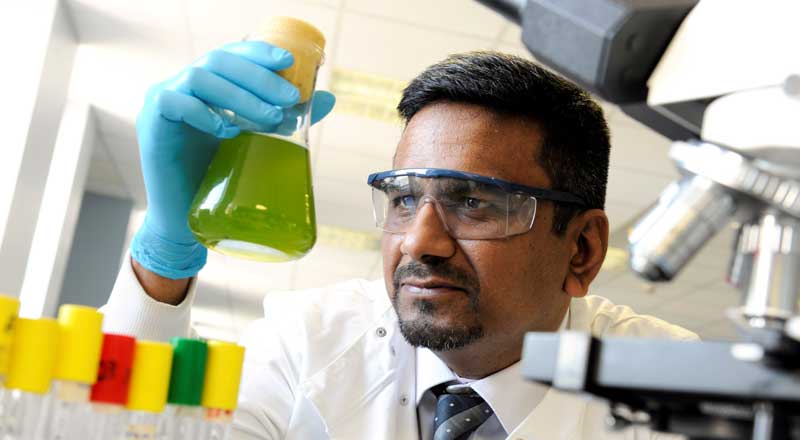 The collaborative bio-refinery project, which focused on the viability of removing phosphate contamination from waste water while producing viable quantities of high value lipids and biochar using a suitable microalgae strain, has been selected for use as a case study by the Biotechnology and Biological Sciences Research Council (BBSRC).
BBSRC, which is funded by the Government's Department for Business, Energy and Industrial Strategy (BEIS), is one of seven Research Councils that work together as Research Councils UK (RCUK).
In 2015/16 it invested £473m in world-class bioscience, people and research infrastructure and it currently supports around 1,600 scientists and 2,000 research students in universities and institutes across the UK.
TeeGene's project, which was led by Teesside University academics, was funded by a Business Interaction grant awarded through the High Value Chemicals from Plants Network, a BBSRC-funded Network in Industrial Biotechnology and Bioenergy, co-ordinated by the University of York and John Innes Centre.
It has established the viability of an integrated biorefinery based on a hydrothermal enabling technology.
We are delighted and very proud that our work has been highlighted as a case study
TeeGene's director Dr Pattanathu Rahman, based in the University's School of Science & Engineering, said: 'Microalgae are a promising source of biofuel, high value chemicals and nutraceuticals but there are major technological challenges which currently limit the extent to which they can be used which our research sought to overcome.
'We are delighted and very proud that our work has been highlighted as a case study.'
'BBSRC has identified industrial biotechnology and bioenergy as high-level priority areas in its Strategic Plan 2016-2020. The support from BBSRC plays a major role in the development of next generation biological systems and novel bio-processes towards improved manufacturing in industries.
"Our long term aspiration is to integrate TeeGene's core technologies and business aspirations with the hydrothermal processing expertise at Teesside University to create a central enabling technology for bio-refinery development in the north east England."
---