The Tees Valley will play a major role in a future circular economy where plastics are recycled and re-used and stay out of the environment, delegates from across the United Kingdom have heard.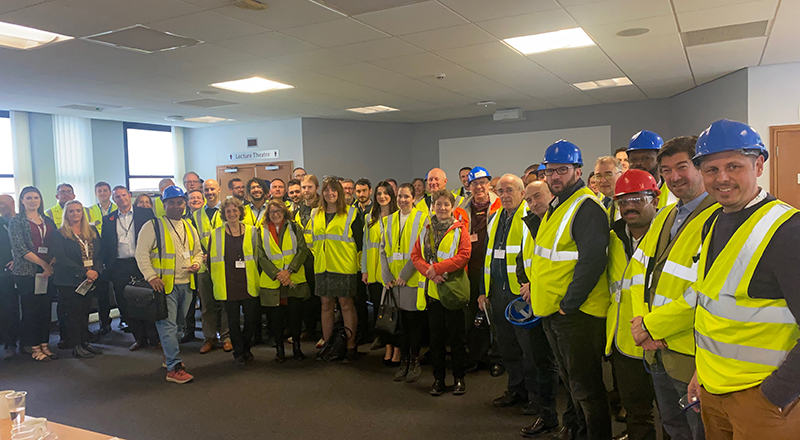 More than 60 industry professionals attended a one-day event organised by Teesside University and Innovate UK Knowledge Transfer Network (KTN) at the Wilton Centre to learn about the future plastic circular supply chain and how the Tees Valley region is perfectly poised to be a major part of this ecosystem.
Held in conjunction with the UK Circular Plastics Network, the event gave guests a chance to learn about the plastics supply chain within the Tees Valley and ground-breaking advances that were being made to ensure that this was sustainable with minimal impact upon the environment.
Alongside presentations from organisations including Innovate UK and the Tees Valley Combined Authority, the guests were also given tours of a number of key businesses and organisations in the region, such as Dupont Teijin Films, CPI, Biffa and Stuff4Life, to see first-hand the innovations in polymer technology they were implementing.
Teesside University aims to transform lives and economies by applied research, innovation and engagement with business and a key pillar of its research strategy is forging a smarter, greener industrial economy through the design of novel and disruptive technologies.
Next year will see the opening of the University's £13.1 million Net Zero Industry Innovation Centre (NZIIC) which will be central to the Tees Valley Combined Authority's regional innovation strategy, positioning Teesside firmly at the heart of the UK's green industrial revolution.
Part of the NZIIC will include a dedicated circular economy hub researching new ways to improve recycling efficiency, particularly among polymers.
Dr David Hughes, Associate Dean (Research and Innovation) in the University's School of Computing, Engineering & Digital Technologies, said the Tees Valley's history as a major centre for the petrochemical industries, along with its location and skillbase, presented it with a unique opportunity to be at the centre of the UK's drive for Net Zero,
Teesside University can work alongside businesses to ensure they can take full advantage of this growing sector and assist them on their drive to Net Zero.
He said the NZIIC will act as a bridge between industry and academia, helping to ensure that the region is a pre-eminent player in the circular economy.
He said: "Plastic is an amazing material and polymers will no doubt play a key role in the future of energy and resources, food, health, mobility & infrastructure and communication. However, we need to ensure that it no longer reaches the environment.
"Here in the Tees Valley we are perfectly placed to do that and the University can work alongside businesses to ensure they can take full advantage of this growing sector and assist them on their drive to Net Zero."
Dr Sally Beken who leads the UK Circular Plastics Network for the KTN added: "This event is all about showcasing better molecular husbandry – looking after our polymer molecules to make sure that we get the best value out of them and fugitive molecules don't escape into the environment.
"We are able to showcase the latest ways of achieving this through mechanical, chemical and enzymatic methods and it's great that people can come and see what opportunities are available to them."
The Net Zero project is receiving up to £8.85m of funding from the England European Regional Development Fund as part of the European Structural and Investment Funds Growth Programme 2014-2020. The Ministry of Housing, Communities and Local Government (and in London the intermediate body Greater London Authority) is the Managing Authority for European Regional Development Fund. Established by the European Union, the European Regional Development Fund helps local areas stimulate their economic development by investing in projects which will support innovation, businesses, create jobs and local community regenerations.
---