National Horizons Centre to support groundbreaking digital health hub
Academics at Teesside University are to play a key role in the delivery of a groundbreaking £4.17m Digital Health Hub for the North East and North Cumbria (NENC).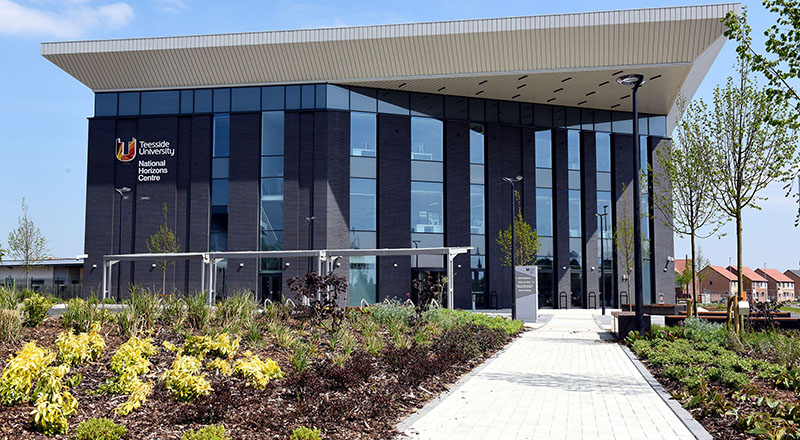 In partnership with the region's six universities and seven NHS trusts, the EPSRC-funded Northern Health Futures (NortHFutures) hub aims to create a world-leading healthcare technology (health-tech) research and innovation ecosystem that addresses health and social inequalities in NENC by supporting: inclusive digital skills training and sharing, responsible health-tech design and development, networking and entrepreneurship.
The three-year project aims to address unmet health needs in the region, including: health and nutrition for children and young people; mental health and wellbeing; monitoring of people before, during and following treatment beyond the hospital; wider application of virtual and augmented reality in training and delivery of clinical care; and ageing well with long-term conditions.
The Hub combines the complementary strengths and resources of over 50 partners: six universities – Teesside, Newcastle, Cumbria, Durham; Northumbria and Sunderland; seven NHS Trusts; regional, national and global industry partners; health and care providers; local authorities; innovation accelerators; plus voluntary, community, and social enterprise sector organisations. Through an integrated, regional approach uniting this consortium for the first time, the aspiration is for NortHFutures to establish global leadership in Digital Health.
The team will commission research studies and pioneer networking platforms, services and entrepreneurial environments to engage diverse stakeholders in digital skills training and responsible health-tech projects, stimulating social, economic and cultural growth for all.
NortHFutures is one of five Digital Health Hubs funded across the UK as part of an £16.5 m EPSRC pilot scheme.
Staff at Teesside University's National Horizons Centre (NHC), a £22.3m national centre of excellence for biosciences and healthcare, will be key to the success of the digital health hub. Professor Vikki Rand, Director of the NHC will take a lead on the networking, innovation and entrepreneurship strand of the project, as well as co-leading the digitial skills and training element.
In addition, John Young, Professor of Translational Healthcare at the NHC, and Dr Mark Corbett, the Head of Partnerships and Business Development, will respectively co-lead the translational research and community infrastructure development strands.
This project will allow us to play a vital role in sharing expertise and innovation to help transform digital healthcare provision.
Professor Vikki Rand, said: We are delighted to be involved in this ground-breaking initiative, working collaboratively with the region's universities, NHS trusts and other partners.
"Creating partnerships and leading on research and training for the biosciences and healthcare sector is at the heart of what we do at the National Horizons Centre and this project will allow us to play a vital role in sharing expertise and innovation to help transform digital healthcare provision."
The leads for the Digital Health Hub at Newcastle University are Professor Abigail Durrant, Co-Director of Open Lab and EPSRC Centre for Digital Citizens, and Professor Naeem Soomro, Consultant Urological Surgeon, and Co-Director in Robotic & Digital Surgery at The Royal College of Surgeons of England.
They said: "Through this joined-up endeavour, we aim to better understand how to address health inequalities, and to promote proactive health monitoring, patient-involved care, and positive ageing through responsible design.
"We aim to better connect rural and urban populations through pioneering applications of data science – in health and care delivery, in best professional practice, in analytics and strategic planning – grounded in research evidence.
"Our aspiration is that the Hub will deliver a supportive and diverse community infrastructure that will stimulate social, economic and cultural growth, and will promote wellbeing for all."
Professor Graham Evans, Executive Chief Digital and Information Officer/SIRO, at NHS NENC Integrated Care Board said: "We are looking forward to working closely with the Digital Health Hub and accessing its extensive expertise to co-design solutions which would directly address many of the challenges we identify across our health and care system, while supporting research and the development of innovative new products and services which could help stimulate further economic development in our region.
"Our region has a strong history and legacy of innovation, transformation and collaboration. Many of our future aims and aspirations will be enabled with digital data and technology, allowing our region not just to do the same things better, but to do better things."
---
In the News
NortHFutures: New Digital Health Hub across the North East and North Cumbria
MyNewsDesk, Web, 14/06/2023 The Hub combines the complementary strengths and resources of over 50 partners.
---
Funding announced for NortHFutures Digital Health Hub
Mirage News, Web, 10/06/2023 The three-year pilot project aims to address unmet health needs in North East and Cumbria.