Outstanding international students receive scholarship boost
High-flying international students from across the globe have joined Teesside University in the latest round of a prestigious scholarship programme.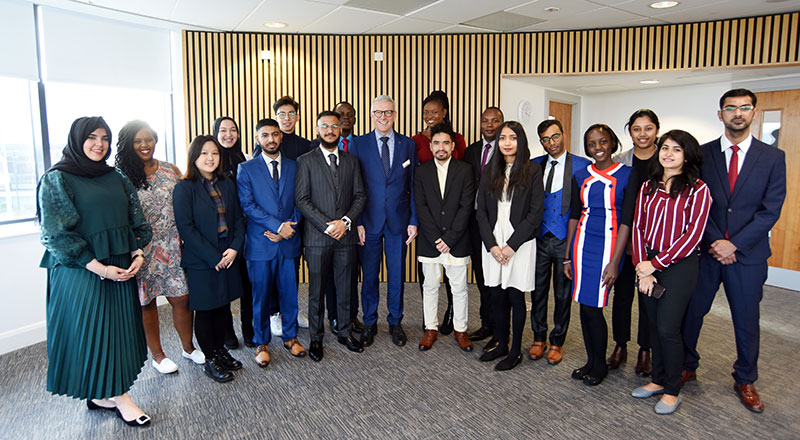 A total of 17 new students have enrolled at the University on a range of courses after being awarded Vice-Chancellor's Scholarships.
The scholarships are awarded to outstanding international students who can demonstrate their skills and commitment to becoming future global leaders.
The successful students, who receive a one-off payment of £5,000 as a fee waiver in their first year of study, joined Vice-Chancellor and Chief Executive Professor Paul Croney and Pro Vice-Chancellor (International) Dr David Bell at an event to celebrate their awards.
Great Tayali, 39, is from Zambia and is studying MSc International Management (Applied).
He said: 'The scholarship is extremely helpful and provides critical financial support during the course.
'My first impressions of Teesside University are good – the outlook is bright and I already feel very much part of the team.'
Rana Abdalla, 24, from Egypt, is studying MSc Electrical Power and Energy Systems.
She said: 'The course is exactly what I wanted in order to move forward in my career and Teesside University is very well-known and has a fantastic reputation.
'The scholarship has really boosted my confidence and I feel like an ambassador for other international students. I was surprised to be successful but it shows that I am unique in my own way.'
Dr David Bell said: 'Teesside is an outstanding university with a global reputation for academic excellence. All of the recipients of the Vice-Chancellor's Scholarship have demonstrated a real commitment to their specialist areas and we wish them every success with their studies and future careers.'
---