Scholarships
Scholarships for non-UK students
Find out if you are eligible to receive additional funding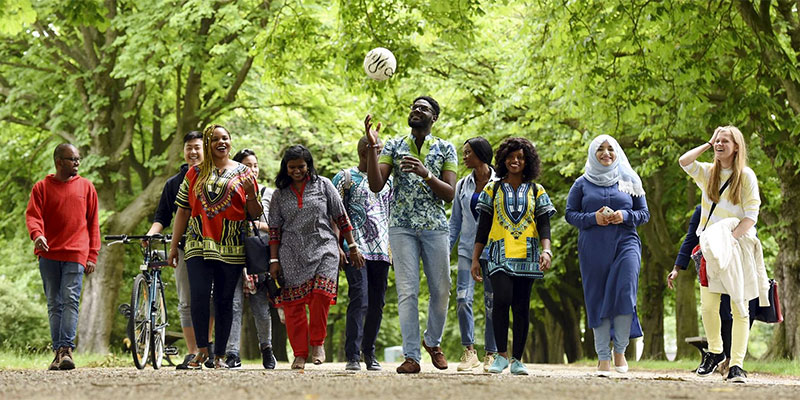 Teesside University offers a wide range of scholarships to International and EU students. To find out if you are eligible, select the dropdown menu for more information.
Teesside University Funding
You may be eligible for a scholarship of £1000 or £1500 in your first year of study if you are an international (non-European Union) student studying on a foundation, undergraduate or postgraduate programme.
Scholarships are awarded automatically based on academic or english language ability.
We have four scholarships, each of £5,500 available to Chinese students enrolling on postgraduate programmes in September 2018. Candidates will be automatically considered for this scholarship; no separate scholarship application is necessary.
To read about the Teesside University – British Council GREAT Scholarship 2018 in Mandarin, visit our China website
Only four scholarships available. Find out more
Teesside University Advance is available for all full-time students (Home, EU and International) enrolling on Year 0 or Year 1 of a full-time undergraduate course delivered at our Middlesbrough campus from September 2018. This is awarded automatically after enrolment and includes:
an Apple iPad installed with Office 365 software, the University's student portal, access to email, timetables, virtual learning environment and library resources
an iPad compatible keyboard
£100 credit that can be used to purchase course textbooks and learning resources
plus lecture-capture technology across campus soyou can access recordings of lectures at any time, from anywhere
If you are an international (non-EU) fee-paying, full-time student at Teesside University and pay your fees in full before you enrol, you get a £500 discount.
Please note - for students enrolling on a 2 year master's degree, paying £7,000 a year, you are entitled to a £250 discount for each year that you pay your fee prior to enrolment.
Study level: Foundation, undergraduate, postgraduate, research
Who can apply: International (non-European Union) students
More information: finance@tees.ac.uk
If you are an undergraduate international student (non-European Union) at Teesside University and wish to progress to postgraduate study, or if you complete a master's with us and progress a new postgraduate programme, you are eligible for a £1,000 staying-on bonus. You will only receive the bonus if you apply directly to us and don't use an agent and the £1,000 is awarded as a discount on your first-year fees for the next programme.
Study level: Postgraduate
Who can apply: International (non-European Union) students
More information: finance@tees.ac.uk
External Funding
---
Funded by the Foreign and Commonwealth Office (FCO) and partner organisations, scholarship recipients are personally selected by British Embassies and High Commissions throughout the world. Chevening offers a unique opportunity for future leaders, influencers, and decision-makers from all over the world to develop professionally and academically, network extensively, experience UK culture, and build lasting positive relationships with the UK.
Study level: Postgraduate master's programmes
Who can apply: International (non-European Union) students
More information
The Vietnam International Education Development (VIED) under the Ministry of Education and Training (MoET) are collaborating with Teesside University to provide high quality research education and training to qualified students from Vietnam.
Teesside University will offer successful candidates a joint scholarship each year to students from Vietnam who have received the VIED Scholarship.
Study level: PhD
Who can apply: Vietnamese students
More information
Ministry of Research, Science & Technology, Indonesia, scheme offering fully funded scholarships to faculty members at Indonesian universities and DIKTI members.
Study level: PhD for permanent or prospective members of faculty at Indonesian universities
Who can apply: Indonesian students
More information

Study level: Postgraduate
Who can apply: Applicants from Eligible Commonwealth countries
Teesside University is offering 5 Commonwealth Shared Scholarships for individuals from least developed and lower middle-income countries wishing to study a Master of Public Health (MPH).  The scholars will receive full-tuition fees and monthly stipend equivalent to £1048 (tbc), an air ticket to and from country of origin along with some allowances for buying warm clothes and attending conferences.
Candidates need to first apply and receive an offer of a place on the Master of Public Health (MPH) from Teesside University.
Once given an offer of a place, candidates need to access the Commonwealth Scholarships Electronic Application System and apply for a Commonwealth Shared Scholarship. The electronic application system will close on 30th March 2018.

Further information about eligibility can be found on the Commonwealth Shared website.
For enquiries, please get in touch with Dr Lawrence Achilles Nnyanzi (Programme Leader, MPH)
E-mail: L.Nnyanzi@tees.ac.uk
Tel: +441642384967.