Life on campus
Safe and friendly
Teesside is a safe and friendly place where you will soon feel at home.
Teesside University is ranked 1 of 44 UK universities for overall average satisfaction with student living. (International Student Barometer 2018)*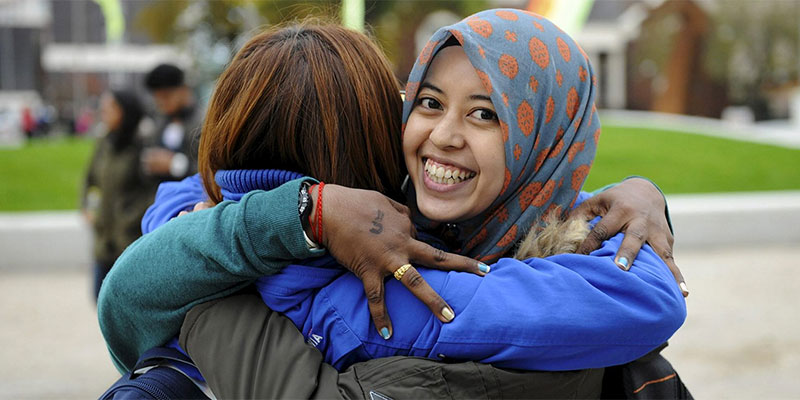 Students' Union
The Students' Union is led by students for students. As a student you elect the president and officers who represent you and campaign on your behalf
In the International Student Barometer 2018 Teesside University is ranked number 1 of 44 UK universities for social activities, and number 1 of 199 world universities for social facilities*
Socialise at the Students' Union building - The Hub. It includes social spaces where you can relax with friends, a shop, places to eat, bars, support, and a job service to help you find part-time work
Register for your National Union of Students Extra card for only £12 a year. You get high-street savings, discounts on travel and exclusive offers at the Students' Union.
Join a society
Join one - or more - of our student societies to meet new friends, take part in sport or cultural activities and practise your faith
Teesside University is ranked 1 of 43 UK universities for its Students' Union. (International Student Barometer 2018)*
Meet other students from your country, culture or who share your religious beliefs. Feel more at home through societies like Interlink, Chinese society, Islamic society, other country societies or voluntary activities in the local area
Meet students from other countries and experience UK culture - try football, basketball, cricket, badminton or tennis
Find plenty of other societies and specific interest groups in the local area
More about our Students' Union societies
Support your faith
Whatever your faith, you can get independent and confidential support from the University Chaplaincy
You will find places of worship within easy reach of the University - Buddhist, Anglican, Roman Catholic, United Reformed, Baptist, Methodist, Quaker, Greek Orthodox, Hindu, Islamic and Sikh
Teesside sports
On campus, we have superb facilities for sport and wellbeing. Whether you are an elite athlete or you just want to try a new sport - you will find what you're looking for here.
Benefit from our new £17m sport and health sciences building - a state-of-the-art learning environment if you are studying sports therapy
Take part - our Olympia sports complex includes a 500-spectator sports hall for major tournaments
Keep fit. Facilities include top-of-the-range sport and exercise labs, a temperature-controlled environmental chamber, climbing wall, floodlit artificial turf pitch, rugby pitches, sauna and steam room, squash courts and three sports halls, and a white-water rafting course
Stay focused. Initiatives include our focus sports and intra mural sports leagues, Students' Union clubs, volunteering and community sport projects. Off campus, you'll find even more
Enjoy our 60-acre Saltersgill Sports Ground, the River Tees Water Sports Centre for rowing, canoeing and kayaking and the nearby Tees Barrage, which has a world-class white water rafting course
Choose from local tennis, swimming, water sports, athletics, pool and snooker facilities
Go outdoors with walks and activities in the North York Moors and along the beautiful North Yorkshire coastline
More about sport and wellbeing at Teesside
*Based on the views of 410 students. More info at tees.ac.uk/source
---